Disclaimer: As an affiliate I may earn a commission on any qualifying purchases, including those from Amazon.com, at no extra cost to you – read more.
Not many topics get batted around the docks more than what brand of outboard you should put on your boat. Like picking out a new car, every motor has enthusiasts and haters. Sometimes it's challenging to sort through all of the hype.
Unfortunately, buying a boat isn't quite as simple as buying a new car. The boat's hull is made by one company, and another company makes the engine. For most boaters, the choice of engine will be secondary to the selection of the boat hull they want and can afford.
If you're shopping to repower your older boat, or you get the option of custom-building a new boat, picking an outboard becomes more of a task. Factors to consider include size, power output, and weight, along with reliability and ease of service.
Check out my Maximum Horsepower Calculator to see the biggest engine your boat can handle.
Major Players in the Outboard Motor Market
The top names in outboard motors will likely sound familiar. They come from the world's most popular engine manufacturing companies, and most of them also make cars or motorcycles. Honda, Yamaha, Suzuki, and Mercury come to mind first. Nissan currently makes outboard motors under the Tohatsu brand, though older vintages carry the Nissan badge. Evinrude is an exception since the brand is only associated with outboards, but the company is owned by the same people that make Rotax engines, Can-Am ATVs, and Sea-Doo jet skis.
Buying a New Boat
If you're going boat shopping, the brand of motor the boat comes with is nearly always a secondary consideration. Boat manufacturers team up with individual outboard companies; their boats leave the assembly line with the engine rigged. Usually, the buyer will get the choice between a standard horsepower version and a slightly more powerful upgrade. Choosing between different brands is seldom a choice unless you're dealing with a custom boat builder.
Since outboard motors last 20 to 30 years or more, even used boats aren't going to give the boater the chance to pick a boat with a specific brand of motor.
When comparing boats, other factors and features are almost always more important than the logo on the engine cowl. Boats vary in design and production quality so much that the primary goal of nearly every boat shopper is to pick the best hull they can afford. Afterall, outboards can be swapped out and replaced, but you can never change the fundamental design of your boat.
The rare occasion when most buyers can pick their favorite motor brand is when they are repowering. Maybe you bought a new boat without a motor, or perhaps you are undertaking a major refit on a nice older hull. Either way, you get complete control over the choice.
If ordering a specific type of engine is important to you, and you are buying a new boat, you can work with your dealer to have the boat delivered unpowered. Once you've got the boat, you can mount whatever motor you want on it. This might be a cost-prohibitive option, however, so crunch the numbers carefully. Another option is to rent a boat to try it out (learn more about renting versus purchasing a boat).
---
Outboard Engine Technologies
Outboard motors are experiencing something of a renaissance. Simple two-stroke carbureted outboards were the staple of the marine industry for decades. Then, in the 1990s, government emission standards for outboard motors were tightened, and manufacturers had to make a decision.
Should they stick with the two-stroke motor and work to make them cleaner, or should they convert already clean four-stroke engines for marine use? Nearly all of the top manufacturers chose to go with four-stroke motors.
Today, four-stroke outboards make up the majority of the US market. Technology and engineering advances have allowed these motors to match or beat the performance of comparable two-strokes, and they are now lighter and more powerful than ever. All but the smallest engines are fuel-injected, meaning quick starting and more efficient combustion.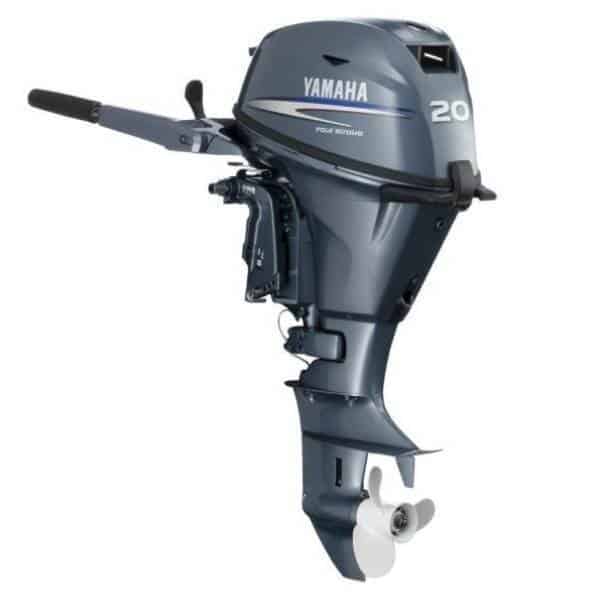 Outboards today come in every shape and size, from 20-pound two-horsepower models to V-8 400-horsepower monsters. Large offshore fishing boats are being rigged with three, four, five, or more huge outboards rigged on the back. Companies like Seven Marine are pushing the limits to how much power an outboard can produce. The company makes what are currently the most powerful on the market, a 627-horsepower V-8.
Want to protect your investment? Read my review of fuel stabilizers.
---
New Alternatives to Gasoline Outboards
If you're in the market for a smaller outboard motor, there are several options other than standard gasoline models that might be worth considering. Torqeedo makes a range of rechargeable electric outboards. The company has tested the engines in pretty much any condition you can imagine. They offer models that are comparable to gasoline outboards ranging from one to eighty horsepower. On smaller examples, battery packs are easily swapped, so you can carry a charged spare at all times if you want to. For yacht tenders, canoes, jon boats, or any other small craft looking for an occasional push, these electric outboards are an interesting choice.
There are also several propane outboards on the market now. They range from five to fifteen horsepower and can run off either portable 1-lb. camping cylinders or from a larger propane tank fed through a hose and adapter. The two leading players in the propane outboard market at Lehr and Tohatsu. These motors are primarily geared towards sailors to use as yacht tenders, but they are perfectly viable for any small vessel application.
If you're looking to repower a workboat or other high-power vessel, there are now diesel outboards on the market. Yanmar, the Japanese maker of diesel engines for marine and tractor use, has released a two-cylinder diesel outboard called the Dtorque. While only rated at 50 horsepower, the torquey diesel is more accurately compared to a 70 horsepower gasoline outboard. Look for more size options and other manufacturers venturing into the diesel outboard market soon.
---
Selecting the Perfect Outboard
If you get the luxury of picking out an outboard motor, how do you go about doing it? Just like any major decision, you'll have to choose which criteria are most important to you.
Two-Stroke vs. Four-Stroke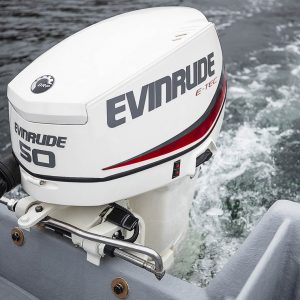 Evinrude E-Tec outboards are the only outboards available in the US that still use two-stroke technology. To make these motors comply with air quality standards and laws, Evinrude has created a sophisticated computer injection system. This allows the engines to run smoother, quieter, and cleaner than any two-stroke in history. Outside of the US, traditional two-strokes are still available and in service. And there are, of course, used two-strokes that pop up on the used market from time to time.
All other new outboards for sale today, including non-E-tec Evinrudes, are four-stroke models. Just like the engine in your car, these engines are incredibly reliable, smooth-running, and clean. They start with the turn of a key, and they sip fuel.
Power and Weight
One overarching factor affects your decision on which outboard motor to buy: the capacity of the boat hull. On the Coast Guard capacity plate, a maximum horsepower and maximum motor weight will be provided. Do not exceed these limitations. Not only will doing so be unsafe, but you may be invalidating your insurance and limiting your options to resell the boat. You don't have to put the maximum power on the boat, either. Many boat manufacturers will provide a "recommended" power, which should be more than enough for most people. If your boat planes, you'll need to be careful to put enough power on to ensure that the boat will get on plane when fully loaded.
Another major factor affecting your choice will be the weight of the motor itself. Two-stroke motors are always lighter than their four-stroke competitors. With this in mind, you can usually put more two-stroke horsepower on the back of a boat. If you are repowering an older hull with a four-stroke, you might have to settle for a less powerful motor to keep the boat safely balanced.
Mechanics and Parts Availability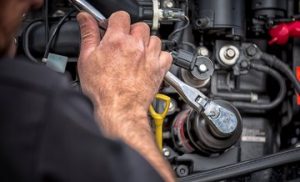 One of the most variable things about these brands is your access to mechanics and parts. Some companies focus more on some geographic regions than others. If your outboard has the newest, fanciest technology available, you will have a much harder time finding people who will work on it.
If you plan to do work on the motor yourself, another consideration is how easy parts are to get. Several companies allow their parts to be sold online, and there are several useful websites to get them from. While you're shopping for your outboard, browse the websites and see how easy parts are to get. You can also put together a sample shopping list for each brand of motor, and then see whose parts are the least expensive.
Warranty
Considering that modern outboards, like many modern cars, are extremely reliable and built to provide years of worry-free service, the manufacturers often compete based on their provided warranties. It's not uncommon to see promotions offering an extra year or two of extended warranty service.
Nearly all companies offer at least a five-year warranty. This is an important consideration; outboard motors are one of the most expensive upgrades you can make to your boat. There are also several other questions to consider when comparing warranties. Does the warranty allow you to transfer it, should you sell the boat? Does the warranty cover mechanic's labor should repairs be needed? What sort of warranty protection is included for corrosion issues if you operate in saltwater?
Use in Saltwater
All outboards are designed to be used in fresh or saltwater. Saltwater is corrosive, but these engines are designed to take it with stainless steel components.
Regardless, your engine will last longer if you take care of it. In saltwater, this means a few extra steps to your routine. If you store your boat in the water, make sure you tilt the engines out of the water every night. Rinse them off with clean, fresh water often, and take the time to flush the cooling system after every use. Most motors now feature a flush port where you can plug in a garden hose to clean the cooling system easily. If you don't have a flush port, you can flush the engine by using a hose adapter that fits over the water intakes at the bottom of the engine.
Besides daily cleaning, when doing maintenance and oil changes, you can take a few minutes to help fight corrosion. Make sure to service all grease points every time you work on the motor, and treat any rust or corrosion the moment you spot it. It will only get worse with time. Additionally, there are many corrosion inhibitors available that can be sprayed on the engine to help ward off any nastiness. Finally, make sure your anodes are in good shape, and always replace them at least annually, if not more often.
---
What is the Best Outboard Motor for Saltwater?
These are some of the best outboard motors for saltwater that have launched in the last few years:
Best Value: YAMAHA F300
This is a popular pick because it's lighter (and also considerably better priced) than others on the market. But that doesn't mean it's less power, the 5.3-Liter V8 F350 engine ensures this.
Easy to Start: Suzuki DF25
When shopping around, one outboard motor that stands out is the Suzuki DF25 thanks to it's battery-less EFI. This is a newer technology in small outboard motors that better harnesses the energy when you pull the cord. Essentially this means it will start first time, every time.
Best for Horsepower: Mercury Racing 450R
If horsepower is the name of the game, then Mecury's new Racing 450R with 2.4-liter twin-screw supercharger is worth your attention.
Key features include twin charge-air coolers which increase power output by recuding the temperature of the compressed air intake. It's also one of the lightest on the market, over 300lbs lighter than any similar sized motors.
Keep in mind that you are limited to the amount of horsepower you can actually put on a boat, so check out maximum horsepower calculator if your not sure.
---
Types of Boat Hull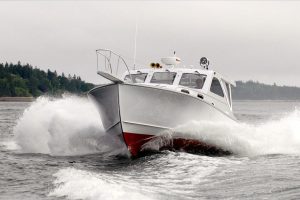 Surprisingly, even small outboards can drive fairly hefty vessels. The amount of horsepower a boat needs to move depends on several factors, but the primary one is the hull design. Boats with displacement hulls push the water out of the way and are limited in the maximum speed they can travel. Their maximum hull speed is a factor of their length, not of their horsepower. Small boats that move at hull speed require surprisingly little power. Examples of displacement hull boats include everything from small sailboats and canoes to tugboats and full-sized ships.
Besides displacement hulls, boats can also be classified as semi-displacement or planing. Semi-displacement boats can move quicker than their displacement counterparts, but it takes a lot of power and a lot of gas. Semi-displacement designs include many offshore fishing boats, Downeast-style runabouts, fast trawlers, and many pontoon boats.
Planing boats are designed to leap on top of the water and on "plane." A planing hull requires a certain amount of horsepower to get up onto plane, and then any excess power can be used to increase their top-end speeds. Bass boats, center consoles, ski boats, and cigarette boats are examples of planing hull boats. Planing hulls can range from 8-foot long rigid inflatable dinghies to 100-plus-foot motor yachts.
Small Outboards
These motors are usually controlled with a tiller handle and are nearly always started with a pull-rope, like a lawnmower. While most outboard motors are water-cooled, some of the smaller portable models are air-cooled. The Honda 2.3 is an example of an air-cooled, super-portable four-stroke engine. Since it doesn't have a water pump, maintenance requirements are lower, and you can use the motor is soupy waters that might clog other motor's intakes.
It should also be noted that most small outboards are still carbureted. This means you will want to run the engine often and plan on more tune-ups. Suzuki has recently introduced fuel injection into their small 9.9 and 15 horsepower models, making these two motors stand out when compared to the competition.
Midsized Outboards
Midsized outboards range from 20 to 50 horsepower. These are usually found on semi-displacement boats or on planing boats that are less than 20 feet long. Forty to fifty horsepower variants are common on pontoon boats.
Engines in this size range are typically driven from a helm wheel with remote throttle controls. They are generally turn-key electric start with an onboard alternator or magneto used to charge the boat's battery and run its electrical system.
High Power Outboards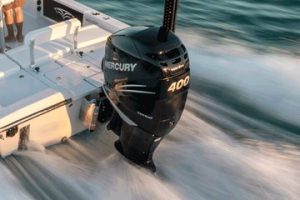 On the high end, outboard motors come in many power rating up to 350 horsepower or more. These engines are used on fast planing hulls. Boats are often rigged with multiple engines. A twin-engine configuration offers redundancy should one fail. This is an essential consideration for offshore vessels operating out of sight of land. Multiple outboards also give owners the option of installing more power than one outboard alone can provide. The fastest go-fast boats can be rigged with over a thousand horsepower in outboards! Manufacturers are also creating advanced computer systems to manage maneuvering these outboards, making them easier to drive, trim, and dock.
---
Best Outboard Motor for the Money
With all of the major outboard manufacturers providing very similar products, price shopping is pretty straight forward. First, make sure you are comparing apples to apples. Are all motors in your size range water-cooled and fuel-injected? Do any have unique features that make them stand apart from the others? If the size or features you want only come from one or two companies, there's not much more to narrow down.
Once you're ready to get prices, be sure to shop around online and at your local dealer. Small portable outboards are easily shipped, so don't hesitate to buy them online. If you do purchase them at the dealer, the mechanics there will commission the engine and perform a post-delivery inspection to make sure you're good to go.
You'll probably find that prices don't vary too much from one manufacturer to another. From personal experience, it seems that Hondas are the most expensive, followed closely by Yamahas. Suzukis, Mercurys, and Evinrudes are usually a tie. Sometimes a deal will pop up, like year-end closeouts or boat-show specials.
---
What is the Most Reliable Outboard Motor
The reliability of nearly every outboard motor is pretty spectacular. Hondas and Yamahas have long-held top honors for user reported reliability, but the other brands are far from lagging. If you want maximum reliability, consider sticking with a high-end brand name motor and avoiding any flashy new systems or add-ons. The keep it simple "KISS Rule" applies in boating, perhaps even more than it does in other hobbies.
Nearly all problems with outboard motors of any brand involve the fuel system. Whether the cause is ethanol additives or old fuel and lack of use, this is one problem that will get nearly every boat owner from time to time. If you have a carburetor on your outboard, be sure to run your motor even if you aren't boating regularly. Drain the carb if you are storing the engine for a while. Fuel-injection systems help, but you still run the risk of old fuel sitting in your tank.
Every boat should be equipped with a high-quality fuel water separator and spare filters. The best ones have a sight bowl, so you can see if water or junk has gotten into your fuel. Check it before every trip, and you'll never have a fuel problem.
---
Conclusion
Picking a new outboard for your boat is a fun project for the gear-head boater. There's a lot of flashy new technology to look into. But don't lose sight that, in the end, it's the boating that counts. Find a reasonable motor that works efficiently and reliably, and make sure it is sized correctly for your boat. Compare the brand names, see if any special features are offered, and make some careful price comparisons.
Even though it makes great banter at the tiki bar captain's meetings, most boaters don't give too much thought to their outboard motor. Like the motor in your car, it will provide year after year of reliable service with only the slightest amount of care and maintenance. As long as clean fuel is provided, modern outboard motors are worry-free.