Disclaimer: As an affiliate I may earn a commission on any qualifying purchases, including those from Amazon.com, at no extra cost to you – read more.
The available space in any Center Console is limited and that discourages many boat owners from piling up stuff. There are, however, simple additions that make a huge difference in your trip.
You can add devices for shading, shielding, and lighting. Space economy is vital, so you'll also need smart storage and foldable seating. Stability and safety don't need an explanation, but pick what suits you. And think about this: a 5-spot rod holder for all those different fishing rods!
You don't need to break the bank or be overwhelmed by the numerous products.
Here's a roundup of the T-Top accessory must-haves for a new center console.
1. Rocket Launchers (Rod Holders)
Fishing requires several different rods and rigs. Leaning them on the side is inconvenient, and that's how rocket launchers save the day.
You can pick a 3, 5, or 7-rod model. There's a generous 9-rod holder, but that's probably too much. The final choice here depends on your style, the number of rods you usually use, and whether you have friends on board.
I lean towards the 5-rod rocket launcher. It's often the most efficient setup. This is an accessory you can easily install with the universal inserts or on the standard 1.9-inch T-Top.
The best launchers have a compact width of about 25-inches. The material is significant of course, and typically rod holders are made from marine-grade aluminum. This guarantees lightweight and durability.
A swivel mount and rotating clamp increase the degrees of freedom of the launcher. This flexibility is always welcome in such tight spaces.
The finish is optional and depends only on your style. We like the shiny polished look, but many boaters like the matte white, as it matches the console color scheme.
You should use this rocket launcher solely for rod-storage. It's not recommended for use in trolling or with lines you already cast to the sea. You can, however, use it for other steady objects like a flag or a net.
---
2. Bow Rails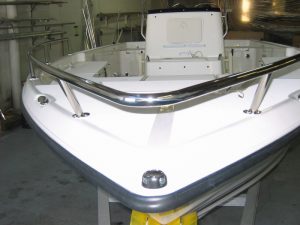 Leaning Bow Rails and Toe Rails are two popular add-on accessories in fishing boats. Stability and safety aren't negotiable in the sea world.
The Fishmaster Leaning rail is installed on a casting platform, and together they offer a rock-solid foothold for your fishing forays.
The full height of the rail is about 36 inches, it has a 1.66-inch tubing, and it comes with stainless steel fasteners.
You can use the sturdy tubing to attach more accessories if you like, as long as they don't interfere with your stance on the platform.
3. Buggy Tops
A hardtop made from fiberglass is the ultimate protection from the elements. It's a lightweight, premium quality, high-strength T-Top, which is exactly what you need in that little roof over your head.
But that's not all that it has to offer. The hardtop is also an extra foothold on your tight ship, which is always welcome. We like the little thoughtful details like a drip edge, a non-skid surface, or an access door.
There's some customization you can get for the buggy top, like matching its bottom side to the material of your boat furnishings. The leg-structure can also be fashioned after the design of your console. Cool, right?
There are several attachments you can add to your buggy top. Most often we see extra lights, an electronics box, and rod holders.
The Birdsall marine design hardtop is an example of what a buggy top should be like. It's the real deal for these setups!
---
4. Control Boxes
When the water splashes from all directions, where should you keep your electronic devices? The best place is in an electronics box attached to the T-Top railing.
The control box should be waterproof as it'll house your navigation gear, a communications radio, fish-tagging equipment, GPS devices, in addition to personal effects.
It's the best place to store your mobile phone, wallet, and keys. You can use the T-Top electronics box to stow them away safely.
---
5. Dome Lights
You need internal lighting that you can easily mount on the T-Top. It'll be nice if said light is also considerate when it comes to power consumption.
Considering the fact that this is an illumination device for a boat, it should also be waterproof. The material of the housing needs to withstand the corrosive salty air of the sea, so high impact plastic is a good choice.
Our favorite features are the compact size and a touch-sensitive switch. These two set apart a regular dome LED light from one worth having.
The Pactrade Marine Stainless Steel LED Dome Light
fits the bill perfectly. This utility light is built of stainless steel, with a brightness level of approximately 260 lumens.
---
6. Radar Mounts/Posts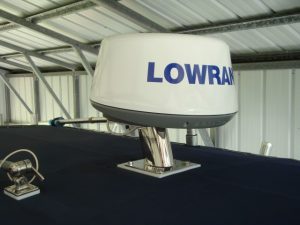 Mounting your electronic devices on a fast-moving vehicle needs a stable, sturdy, and lightweight connection.
You also need it to attach easily to the T-Top. Who needs the hassle of searching for size adaptors for mismatched hardware? The usual fit for T-Tops is 1.9 or 2-inch mounts.
The Radome mounting plate is one of the best in the market. It's a 12 x 12-inch aluminum plate with a ¼-inch thickness, which is a perfect setup to mount a medium-sized radar.
It's anodized to enhance its resistance to wear and tear, and often comes with stainless steel hardware for a convenient and durable mount.
---
7. Antenna Mounts
There's more than one way to attach an antenna to the T-Top. Two are worth mentioning, and the others are pretty much variants of these basic models.
The Dual-axis ratchet mount is a sturdy base for the antenna. It's highly doubtful that any amount of wind or bumping would shake it off. The tough part is matching the hole pattern with your existing setup. You don't want to use a drill excessively on your new Console now, do you?
It's made from stainless steel so it'll weather the sea-life nicely. The base is 2 1/2 inches by 3 9/16 inches, it's usually mounted with ¼-inch FH fasteners and it fits the standard 1-inch Marine Antennas snugly.
The '4-way ratchet design' is another feature that stands out for the dual-axis. The mount is static, so it gives a bit more flexibility through this attribute.
The ratchet rail mount is the answer if you value flexibility over stability. Rail mounts usually have a good grip, but that hardly compares to connecting a metal plate flat onto a surface with fasteners in four spots.
What makes it a catch though, is the absolute ease of installation. You can mount it on a vertical rail if it's a good location, pick a horizontal rail if that's a better idea, or go for a slanting rail if that's all you've got. See the beauty of this setup?
That's not all! There's a dual swivel mechanism that lets you decrease the height of the antenna if the situation calls for it. It's made from stainless steel, which you probably expected already considering it's a premium quality mount.
---
8. Folding Seat
This item tops the list of the must-have items easily. Can you imagine fishing or cruising without a chair? You feel achy already, right!
We wouldn't explain the importance of having a chair in the boat, but we'll go on to recommend the importance of a full-width 60-inch bench.
You wouldn't install that many seats in your console, so why not be generous with available seating space? In the sea, it's usually the more the merrier, and this jolly crowd will naturally need to rest from time to time.
Even if you're flying solo, you might still need to recline for a bit. A moment of rest is highly coveted after a long day of chasing fish, and come to think of it; there's also the star gazing thing. It's certainly worth trying.
This Birdsall Marine Design foldable rear bench seat is everything you need for a comfortable trip. Its frame is made from anodized aluminum, a marine-grade for good measure. The cushion is a high-quality foam with a thickness of around 12 ½ inches.
The seat needs about 16 inches of clear vertical space plus a minimum of ½-inch clearance for proper mounting. You'll need to purchase a backrest as well, because seriously, who likes to rest his back on a cold hard surface?
You have a few options to choose from, but nothing life-changing here. The colors are white and off white, the upholstery is pleated or smooth, and the corners are square or rounded.
The way it unfolds is pretty simple but smart, and you can remove the seat altogether if you like by taking out a few pins. It's a nice seat all-in-all, especially if you get the big one!
---
Conclusion
Going Fishing or cruising with a Center Console is an amazing adventure. Being out in the sea is a unique experience that deserves to be lived to the fullest.
That's why we like to include all the amenities that provide comfort, safety, and smooth sailing. The T-Top accessory "must-haves" for a new center console are worth considering.
Please feel free to add to the list by commenting below, and tell us all about your new Console!