Disclaimer: As an affiliate I may earn a commission on any qualifying purchases, including those from Amazon.com, at no extra cost to you – read more.
Are you trying to decide which small outboard engine is best for your boat? I was asking this question when I was deciding whether to upgrade my boat or buy a new one.
At first glance, picking a small outboard engine might seem like a daunting task. But your hull is going to dictate more factors of the choice than you might realize. Your boat will be rated for a maximum horsepower, a maximum weight, and a specific shaft length outboard. Once you've figured these factors out, it's up to you to decide the exact brand and model motor that you want.
If you want to know which outboard is best for saltwater, read my comprehensive article.
Sizes of Outboard Motor
Manufacturers usually divide their product offerings up by the number of cylinders that the engine has. The smallest one-cylinder and two-cylinder engines are marketed as "portable" motors. They can be hand-lifted and usually attach to the boat with simple clamps that can be undone easily. More often than not, they feature built-in tiller handles for steering. The smallest models have integrated fuel tanks too. They are perfect for canoes, small johnboats, dinghies, and other small vessels. Portable motors usually range from two to 25 horsepower. These motors typically do not have an alternator to charge batteries and are generally started with a pull cord.
If you're looking for a motor that you can take on and off the boat easily, then a portable model is the only option for you. Manufacturers compete in this market based on the weight of the motor; for example, the Honda 2.3 is the lightest gasoline outboard on the market, weighing only 30 pounds. You can easily lift these tiny motors with one hand, and you can strap it on the back of nearly anything.
The next size motors are three- and four-cylinder models that range from 30 to 140 horsepower. These are small motors, but they are too heavy to carry. They are permanently rigged to the hull of the vessel and are controlled by remote steering stations with remote gas tanks. They have all of the features you would expect on a big boat, including electrical system charging, battery start, and hydraulic tilt and trim.
These mid-range motors are perfect for boats ranging from 15 to 23 feet long. They are designed to be small and powerful and to operate trouble-free for years to come. They are the perfect choice for pontoon boats, larger johnboats, deck boats, and smaller fishing boats.
Four- and six-cylinder motors range from 150-horsepower to around 300 horsepower, depending on the manufacturer. These engines are built to drive big boats, fast boats, or big and fast boats. They are often rigged in tandem, but some of the biggest offshore beasts have four or five motors strapped to the back. The surging market for high-powered outboards has each manufacturer pushing to make the most powerful V-8 they can.
---
Picking the Size of Outboard Motor For You
Truthfully, you don't have too much say in what size of outboard motor you should buy. The choice is made for you by the manufacturer of the hull. By law, the boat's Coast Guard placard states the maximum horsepower that can be fitted, as well as the maximum weight that can be carried. If you have an older boat, it's especially important to consider the weight limitations since today's four-stroke outboards are heavier than the two-stroke models of yesteryear. Check out our maximum HP calculator.
Once you know the maximum power you can fit on your boat, you'll have a good idea of which outboard sizes fit the bill. You don't have to put the most power you can back there, but if you put less, you will go slower and may have trouble getting a fast boat up on plane. If you're looking to repower a boat, it's best to consult with an experienced mechanic since the magic involves the boat shape, hull design, weight aboard, engine selection, and even prop size and pitch. You'll also need to know the shaft length of the motors you're considering.
Things to Look for in an Outboard Motor
Are you sure you want a traditional gasoline outboard? If you're looking at portable models, several new options have popped up in the last few years. Propane outboards have become popular. Both propane-only manufacture Lehr and Tohatsu make propane options that run on either a small portable tank or on a bigger remote tank.
Electric outboards are an even more interesting option. With high-power lithium batteries, electric outboards now come in pretty much any size imaginable. If you tie up to the dock every night or are looking for small trolling motors for occasional use, these motors are well worth checking out. They operate silently and are more or less maintenance-free. Torqeedo is the current leading manufacturer.
Some other options you will see when shopping for outboards include high-thrust models, used primarily for pushing big loads. These are popular for work barges or, in some cases, when pushing a displacement hull like a large sailboat. Jet drive models put the propeller in an enclosed chamber, reducing the likelihood of prop damage when operating in very shallow water.
---
Best Brands
Picking the best brand of outboard is just as problematic as choosing the best brand of car. There are probably ten brands out there that are readily available, even more if you count knock-off Chinese motors available online. Every brand has it's fanboys and fangirls. Here's a quick look at the three most popular brands.
Yamaha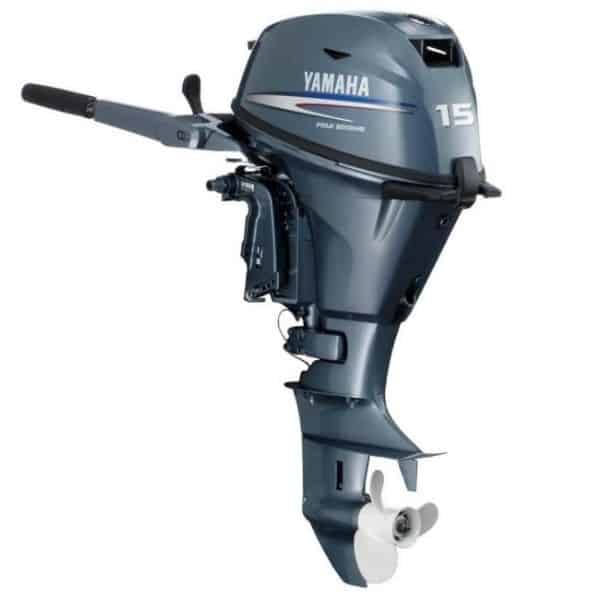 For decades, Yamaha has had a solid hold on the premium outboard motor market. These engines have an excellent reputation for trouble-free service, and they've had and maintained that reputation from day one. Their two-stroke models were practically bulletproof, and when they upgraded to four-strokes, they didn't miss a beat. You can't go wrong with these engines.
Honda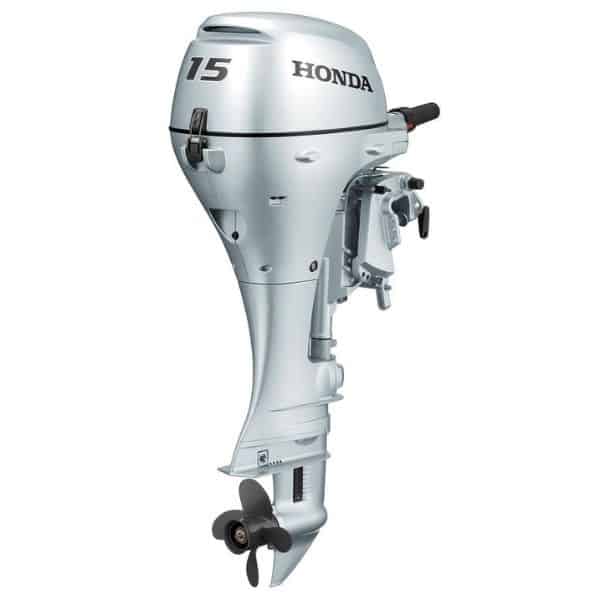 Honda entered the outboard motor market in the 1990s. They were one of the first companies to sell four-stroke outboards, and they marketed them as quieter, smoother running, and cleaner than traditional two-strokes. When EPA regulations made two-strokes obsolete, Honda was in a perfect position.
Just like their cars, Honda's outboards are well regarded. You'll be hard-pressed to find a quieter running, more fuel-efficient, or more reliable engine. They are outstanding motors, but they are also the most expensive brand you can buy.
Suzuki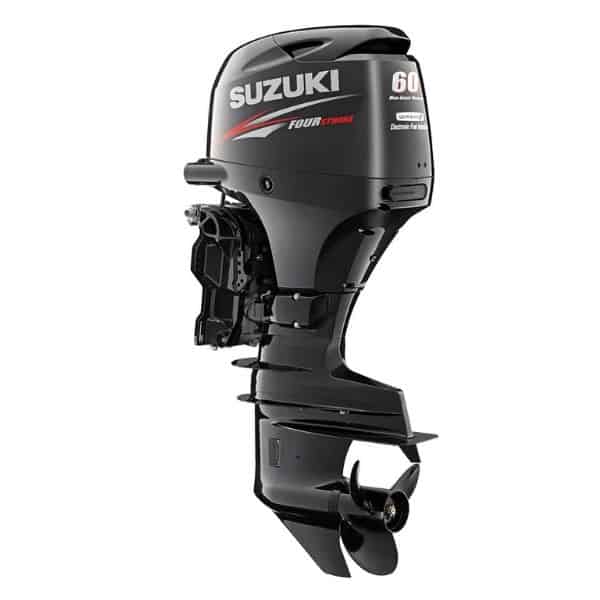 Even though they haven't had a large market share, Suzuki has been in the outboard market for a long time. Their two-stroke motors were great, but their four-stroke models are fabulous. As a bonus, Suzuki's are sold at a great price point. You get the quiet running and reliability of a premium outboard but at a price more competitive with lower-end brands. Suzuki tends to bring new technologies to market quickly to get a leg up on their competition. Currently, they sell the smallest fuel injected (EFI) motors on the market.
---
Conclusion
When you first shop for new outboards, you might in for a little sticker shock. But keep in mind that outboard motors are one of the most durable goods you can buy. Outboards are very reliable and will provide decades of trouble-free service if they're well maintained.