All non-motorized vessels over 10 feet long must be registered. This includes rowboats, sailboats, sailboards, stand-up paddleboards, canoes, kayaks, paddle boats, rowing shells, sculls, all-terrain vehicles used in the water, and inflatable craft.
Minnesota allows boats registered in other states to be used for up to 90 days before they must be registered in Minnesota.
All motorized watercraft regardless of length and non-motorized watercraft over 10 feet must be licensed in Minnesota by the Department of Natural Resources. Boats that are registered in another state may operate for 90 days without being registered.
We have a national database of  state boat registration requirements.
Boats That Must Be Registered in Minnesota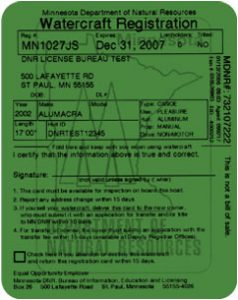 Minnesota requires you to have a Department of Natural Resources issued License Certificate, also known as a registration card, and validation decals to operate a boat legally on Minnesota's public waters. to operate your boat on public waters. If you have a motorboat of any size or any other vessel that is 10 feet or longer, you must register your boat. The only exceptions are:
Non-motorized watercraft 10 feet in length or less
Duck boats during the duck hunting season, rice boats during the harvest season, and seaplanes
Boats registered in other states provided you operate it in Minnesota for 90 days or less
Vessels owned or operated by the U.S. government
Watercraft documented with the United States Coast Guard
A ship's lifeboat
---
Required Information
When you register your boat in Minnesota, you must provide information about the vessel as well as all required documents. The following information is required to register a boat in Minnesota:
Length of boat
Manufacturer
Hull material (wood, metal, or plastic)
Power/propulsion
Model
Year built
Hull identification number
You also need the following:
Watercraft title and registration application
Sales receipt to prove you paid MN sales tax
Required fees
Boat registrations are good for 3 years in Minnesota.
---
Fees to Register Your Boat
In Minnesota, you must pay the registration fees when you register your boat. There are 12 categories, but only three apply to recreational boats. They are shown here.
| | |
| --- | --- |
| Boat Length | Registration Fee |
| Personal watercraft (jet ski, etc.) | $37.50 |
| less than 17 feet | $18.00 |
| 17 feet to 19 feet | $27.00 |
| 19 feet to 26 feet | $45.00 |
| 26 feet to 40 feet | $67.50 |
| 40 feet and over | $90.00 |
Other Fees
$10.60 for Aquatic invasive species surcharge
$8.50 issuing fee
The RMV charges $15 for watercraft titles plus an issuing fee of $7.
---
Frequently Asked Questions
Where to Register Your Boat?
You can register your boat in person at the following locations:
Any deputy registrar of motor vehicles (RMV). This is the same agency where you license your car.
The DNR License Center in St. Paul (address is 500 Lafayette Road, St. Paul, MN).
You may renew your registration online at mndnr.gov/licenses, but the initial registration must be done in person or through the mail.
Here is a list of RMV offices that process boat registrations.
If you apply in person for your boat registration in person, the DNR will issue your boat registration and license decal on the spot. If you apply through the mail, it will may take several weeks to receive your card and decal.
Does MN Require Boat Insurance to Register a Boat?
Minnesota does not currently require boat owners to have insurance before they can register their boat. In fact, most states do not require boating insurance to register or operate a vessel. This is surprising, especially given the fact that every state requires automobiles to be insured.
However, this doesn't mean you shouldn't get insurance. A boat is a major investment that should be protected. In addition, boating accidents can be expensive, especially if someone is injured. Read our article about boating insurance to learn more.
---
Other Information
License Number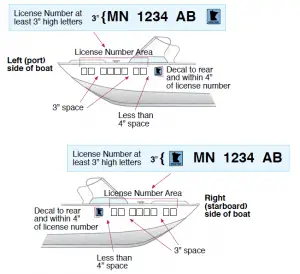 When you register, a license number will be issued to your boat. This number appears on the license card. You must also display it on your boat. Your license number must be placed on each side of the forward half of the hull as shown in the image. You may place the decals on the stern of sailboards, paddleboards and non-motorized sailboats if it is impossible, because of the boat's design, to place them on the bow.
Registration Renewal
All boat licenses expire on December 31st of the last year the license is valid.
Online registration renewal is available online at mndnr.gov/licenses.
Hull Identification Numbers
Minnesota requires boat owners provide the Hull Identification Number when the boat is registered. The HIN is a unique 12-digit number used to identify vessels – similar to a car's VIN number. It is available for boats built after 1973. Boats built prior to 1973 as well as homemade vessels do not have a HIN.
---
Useful Links and Resources to Help You Register Your Boat
Minnesota DNR Boat Registration Page – This is the home page for the State Agency in charge of boat registration
Watercraft Title & Registration Application
Minnesota Boating Guide – A comprehensive summary of the registration process as well as other useful information
DMV Offices – Find DMV locations that can process your boat registration application
Watercraft title fees – A list of fees Minnesota charges boat owners
Minnesota Online Licensing System – The online portal for registering through the web