Disclaimer: As an affiliate I may earn a commission on any qualifying purchases, including those from Amazon.com, at no extra cost to you – read more.
California requires sail vessels over 8-feet long and any motorized vessels that are used on California waters to be registered.
Boats registered in other states may be used for up to 120 days in California before they must be registered with the Department of Motor Vehicles (DMV).
Sail boats over 8-feet in length and all motorized watercraft must be licensed in California by the Department of Motor Vehicles. Boats that are registered in another state may operate for 120 days before they must be registered.
We have a national database  that summarizes the boat registration requirements for every state.
Boats That Must Be Registered in California
Boat registrations are handled by the Department of Motor Vehicles in California. Registered boats are given a certificate of number, also known as the vessel registration card, and registration decals which must be displayed on the boat. Any boat with a motor must be registered in California, and sail powered vessels that are longer than 8 feet must also be registered.
Boats that are not required to be registered in California are:
Vessels powered solely by oars or paddles
Sailboats that are eight feet long or less and do not have an engine
Surfboards propelled only by a sail and a mast that the operator must hold upright (sailboards)
A ship's lifeboat used exclusively for emergency purposes (a dinghy is not a lifeboat)
Boats registered in another state
Boats brought into California for races are exempt during races
Floating residential dwellings that are stationary and not designed to have power of its own
---
Required Information
California requires boat owners to provide identifying information and documentation in order to register their vessel. You must provide the following information to register your boat in California:
Application for Registration Number Certificate of Ownership and Certificate of Number for Undocumented Vessel form
Proof of ownership
Required fees
Proof of ownership may be demonstrated by providing the original California Certificate of Ownership or an Application for Duplicate or Paperless Title form. You may also need to provide the following information to prove you own the boat:
Out of state title
Bill of sale
Statement of Facts form
The Statement of Facts form, also known as Reg 256, is used if the name on the title or bill of sale does not match the correct name of the owner or seller. This document allows you to explain the error so that the mismatch can be corrected.
You will also need this information to complete the required forms to register your boat:
Length of boat
Manufacturer
Material of construction
Method of propulsion
Model and year built
Hull identification number
The location of the vessel
Boat registrations are good for 2 years in California. The state renews all boat registrations on December 31st of odd numbered years.
---
Fees to Register Your Boat
California requires you to pay all registration fees at the time of registration. Unlike most other states, California does not base the registration fees on the size of your vessel. Fees are determined by the year that you register your boat. Here are the current fees to register a boat in California.
| | |
| --- | --- |
| Initial Registration | Registration Fee |
| Even numbered year – resident | $37 |
| Odd numbered year – resident | $65 |
| Even numbered year – non-resident | $65 |
| Odd numbered year – non-resident | $93 |
| Biennial renewal (odd numbered year) | $36 |
These costs include fees for renewal, alternative fuel/technology, and Quagga Mussel. You can avoid the Quagga Mussel fee if you only use your boat in marine waters.
Other Fees
$15 for duplicate title
$10 – penalty in even numbered year
$25 – penalty in odd numbered year
Registration Renewal
All boat licenses must be renewed on December 31st of odd numbered years. The renewal fee is $36. If you miss the deadline, you must also pay a $10 penalty.
Online registration renewal is available online at the DMV website.
Does CA Require Boat Insurance to Register a Boat?
California does not mandate boating insurance for registration or operation of a boat on state waters. Just because you aren't legally required to obtain boating insurance, doesn't mean you shouldn't have it. A boat is one of the largest investments any of us will make. It makes sense to protect a major asset with insurance. I prepared a comprehensive article about boat insurance if you want more information.
---
Where to Register Your Boat
California allows you to register your boat in person or by mail. Online registration is available for renewals but not the first time you register your boat.
In-Person Registration
You can register your boat in person at at any DMV office. It is highly recommended that you make an appointment to avoid a long wait. You should come prepared with all required information and the forms completed. Proof of ownership is required. Acceptable proof that you own the boat includes the bill of sale, certificate of origin, out of state title, or the invoice. You will also need to have the required fees to register. We provide a link to every required form at the bottom of this article.
You may renew your registration online, but the initial registration must be done in person or through the mail.
If you apply in person for your boat registration in person, the DNV will issue your boat registration and license decal on the spot. If you apply through the mail, it will may take several weeks to receive your card and decal.
Registering Through the Mail
If you want to register your boat via the US Postal Service, send the completed Application for Vessel Certificate of Number form, a copy of your proof of ownership, and the required fee to:
Department of Motor Vehicles
P.O. Box 942869
Sacramento, CA, 94269-0001
You should keep a copy of everything you send to the DMV along with proof that you mailed it.
Boat Trailer Registration
If you transport your boat on a trailer, don't forget to register the trailer. This is a separate process from registering your boat, but you can do it at the same time with the DMV. Trailer registrations must be renewed annually.
---
CF Number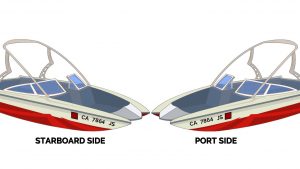 When you register your boat, you will be given a CF number (vessel registration number). California has very specific requirements for displaying this number on your boat.
Located on front of the vessel on both sides
Permanent decals or painted letters/numbers
Contrasting color to be visible and legible
Three inches high in vertical, block characters
Arranged to be read from left to right
Include spaces or hyphens between the prefix and number and between the number and suffix
In addition, your registration stickers must be also be displayed to your boat. California requires you to attach one sticker to each side of the vessel, three inches from and directly in line with the registration numbers. These registration stickers must be visible at all times. You are not allowed to have any other markings or devices near the registration sticker.
If you lose your registration sticker, you have to immediately replace it. You can request a replacement sticker here.
Hull Identification Numbers
California requires your Hull Identification Number (HIN) when you register your boat. The HIN is a 12-digit number that is unique to each vessel and is used to identify a specific boat. It is equivalent to a car's VIN number.  These numbers were used for all boats built after 1973. Boats built prior to 1973 do not have a HIN. All homemade vessels do not have a HIN because they are assigned by the manufacturer.
---
Useful Links and Resources to Help You Register Your Boat
Application for Vessel Certificate of Number (BOAT 101)
Application for Replacement Plates, Stickers, Documents REG 156
Application for Duplicate or Transfer of Title REG 227