Disclaimer: As an affiliate I may earn a commission on any qualifying purchases, including those from Amazon.com, at no extra cost to you – read more.
Selecting the right Bimini top for our boat is more than just finding the right color and shape. My wife and I needed to find one that fit the measurements and dimensions of our boat. It also needed to be just the right height without added problems. These problems can involve weak frames and poorly designed tops. We spent a lot of time looking at different shapes and designs to determine what our boat needed and were able to figure out the following facts to determine what we needed.
How to Measure Boat for Bimini Top
To measure your boat for a Bimini Top, you should use the main mounting point as the point of reference. From here you can determine the length, width and height. The width is calculated by measuring from side to side, whereas the length and height will be down to personal preference.
In this image, the red dot is the mounting point. Your Bimini Top can be mounted to a railing, the top of the gunnel or the windshield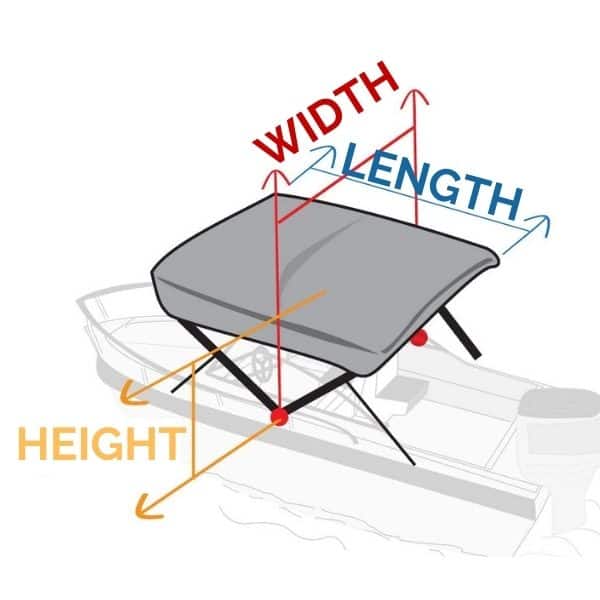 Measuring the Length
The length of a Bimini runs from the bow to the stern of the boat or front to back, but your Bimini Top does not need to cover this entire length. The first thing is to determine how much of the boat you want to be covered by the Bimini Top.
When fitting ours, we decided that we would only cover the front half of the boat because we like our shade when the sun is too hot, but we also wanted to be able to sit in the sun.
You'll typically want to ensure the front covers the steering wheel and dashboard, but it can extend as far back as you wish.
The tops are anywhere from 5' to 9' in length with 6' being the average length for a Bimini to run on a boat. Our boat is smaller around the size of a CorrectCraft or Malibu, but if we had a larger boat than we would need a large 8' or 9' Bimini or a pontoon Bimini.
Take a pencil and mark the center mounting point where you'd like to attach the Bimini top to your boat. Now you can measure how long your Bimini Top will need to be, ensuring the pencil dot is exactly in the middle. For example, a 6′ top would measure 3′ in front of the mounting point and 3′ behind.
Measuring the Width
Now you can use the center mounting point to determine the width by measuring across the width of the boat, i.e. from port to starboard. The exact position on the side of the boat will depend upon the style of Bimini top you will be using.
The different styles of Bimini can make this difficult. It is common to mount the Bimini to the railing, the top of the gunnel or the windshield. It can also be mounted outside or side the boat as desired.
We wanted something easy to mount and wouldn't get in the way so we went with a mount on the inside of our boat, on the railing just before the windshield. Therefore, we used the rails on either side as the positions for measuring the width of the bimini top.
Measuring the Height
The height of your Bimini top is easier to figure out. Measure straight up from the center mounting point to the desired position of your Bimini top.
Remember that the measurement should be from the mounting point, not the floor, to make sure the height measurement is correct.
The higher it is, the less sun you'll get. We opted for a smaller one for more shade, I'm a little tall so this means I have to crouch down to enter, but it is perfect for my wife.
---
Best Materials for Bimini Tops
Picking the right kind of material for our Bimini is as critical as the placement of it. We wanted something that would hold up to the test of time, but also would not fade or degrade in the sun and surf over the years.
1. Top Cover Material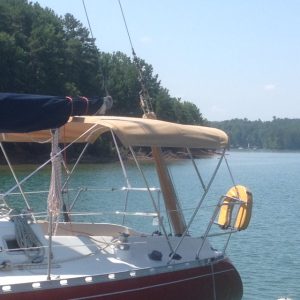 Direct sunlight degrades regular materials over time. We went looking for a top-quality, marine-grade type of cover. Made from vinyl, polyester, a polyester blend or acrylic materials, a good quality top will come with several important qualities. The material should be soft, lightweight and easy to store if we decide to take it down. It should be easy to clean and, of course, waterproof. We went looking for a cover that is resistant to moisture and mildew.
a. Vinyl
Vinyl is a cost-effective material to use when selecting the right type of covering for a boat. We looked at it as it will be resistant to mildew and mold, but only to a point. We would need to clean it periodically to remove the unseen buildup. Many pool covers and boat seats are made out of vinyl because it will resist the effects of water and saltwater exposure.
b. Polyester
Polyester is a good choice for a Bimini fabric as it is resistant to water. It is also resistant to stretching and shrinking if exposed to it. It is also a quick-dry fabric if it does get wet and it is a choice fabric for outdoor activities. My wife and I also like it because it is resistant to ultraviolet rays making it ideal for boating.
c. Acrylic
Acrylic fabrics are also a good choice for boats as they are resistant to the weather and fading. This is something my wife and I considered as we discussed Bimini colors and fading. It repels water and it is a strong durable fabric that does not fade, shrink, wrinkle, mold or mildew.
My wife and I are particularly worried about rot and mildew because we live in a wet climate most of the year. We also did not want it to fade too quickly in the sun and we wanted protection from the ultraviolet rays of the sun when we are under it. We looked a dyed marine acrylic top that can in a wide range of colors. We also wanted a Bimini endorsed by The Skin Cancer Foundation which made our search take a bit longer.
---
2. Frame Material
Because my wife and I live in a wet climate we are particularly worried about the frame of our Bimini rusting. Upon doing some research into the different types of frames available we discovered that there are a couple of different types of materials used in their making.
a. Aluminum
An aluminum frame for our Bimini is easy to find. They are the most common type of Bimini frame to buy because they are cost-effective and light. These were two important qualities to my wife and me as we evaluated frame materials. We did not want to spend too much money, and if it needs to move, I want to be able to move it.
Aluminum is a lightweight metal so I can easily move the frame and while it will show corrosion with time, it will not rust. Rust is something that occurs with iron or steel frames if they suffer exposure to saltwater. This was not enough to convince me though. While aluminum frames will resist corrosion; it will not do so for long. Protecting aluminum from corrosion involves using a powder coating. This powder, made from polymer resin adds a coating to the metal that is smooth and tough.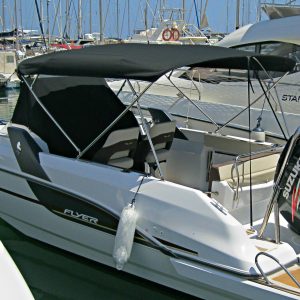 b. Stainless steel
Steel does rust in saltwater, but my wife and I looked at stainless steel frames as an option for long term boat frame use. Like aluminum, stainless steel will rust and corrode over time if exposed to saltwater. There are different types of alloy compositions of stainless steel we considered that are more resistant to corrosion than others.
If the metal has chromium included in the mixture there is more resistance than if it does not. My wife and I really liked the idea of stainless steel from with chromium as one of the ingredients in the composite as it is suited for frames that exposed to wet environments. We live in a very wet climate.
The different grades of stainless steel we looked at included 304/L Stainless steel, 316/L stainless steel, and Duplex stainless steel. 304/L stainless steel is a mixture of chromium and nickel which makes it resistant to the corrosive power of saltwater. The 316/L stainless steel offers a similar chromium and nickel mixture which is resistant to saltwater corrosion with duplex stainless steel offering an even stronger resistance.
Marine cranes use duplex stainless steel in their construction, but it is expensive and my wife and I were still conscious of how much money we were willing to spend on the frame of our boat. Stainless steel is perfect for fighting the effects of saltwater, but it is not the cheapest of materials.
---
Should I Get a Bimini Kit?
During our research, we came across several different types of kits from local vendors and online that will provide us with a complete cover for our boat including the frame, fabric and the nuts and bolts we would need to install one. From the right vendor, the kits are customizable and easy to assemble and install. We looked at them as a cost-effective option for our boat. They come ready-to-assemble and we're a serious consideration for my wife and me.
Ultimate, we chose to piece together our Bimini and not use a kit. This was because we took advantage of a couple of sales which made it more affordable. I wanted materials that would last us for years without showing their age. This meant selecting materials that will hold up against the sun, salt, and time. We did our homework and made our choices based on that research. We haven't regretted the decision.