Disclaimer: As an affiliate I may earn a commission on any qualifying purchases, including those from Amazon.com, at no extra cost to you – read more.
When you own a boat, your responsibilities don't end when you go home at the end of a nice day out on the water. A boat, like any other large investment, takes time and effort to care for properly. Boats, in particular, pose their own unique challenges, especially when it comes to storage. For many boat owners, both new and experienced, alike, the decision to trailer your boat or rent a slip isn't an easy one.
Deciding whether to store your boat in a slip or load it onto a trailer and transport it to an offsite location is a big decision. The following table summarizes the key factors you should consider when deciding which option is better.
| | | |
| --- | --- | --- |
| Factor | Renting a Slip |      Trailering |
| Convenence | High | Low |
| Cost | High | Low |
| Availability | May be limited |  No restrictions |
| Boating range | Limited | Can go anywhere |
| Hours of access | Varies | 24/7 |
| Security | Possible, $$ | Offsite storage |
| Privacy | Limited | NA |
| Time | Minimal | Drive time varies |
| Skill | NA | Backing / driving |
| Damage potential | Stored in water | Debris, collisions |
When deciding where to store our boats, we need to balance cost, security, convenience, and accessibility, but it can be difficult to determine precisely what boat storage option is best for your needs. To help you out, we've got our ultimate guide to boat storage, complete with information about the pros and cons of slip rental and other storage options, so you can be a more informed boat owner. Let's get to it!
Pros and Cons of Slip Rental
A slip is a space at a marina or boat storage yard where a boat is parked. Slips can be rented at nearly every marina, harbor, and port you can think of, so they're a great option for people who love to explore their own backyard.
Renting a boat slip can be a fantastic choice for many boat owners, but is it right for you? Let's take a look at the pros and cons of slip rental here.
Pros:
1. Convenience
The biggest draw of using a wet boating slip is the convenience that it offers. You can simply drive up, put your car in the parking lot and hop on your boat.
This can save you a lot of time messing around with a trailer so you'll be able to spend more time on the boat. It also means you can pop out for a spin with relative ease as you don't need to worry about the time it takes to unload and load the boat back up again afterward.
2. Boat Slip Amenities
One of the best parts of renting a boat slip is all of the amenities you can get from your local marina. Often, we spend much more time at the marina taking care of our boats than on the water, so a marina will great amenities is a huge plus.
Generally, most marinas offer amenities, such as bathrooms, fuel, water, electricity, ice machines, and cleaning tables for prepping your recent catch. You will likely pay more for more amenities, though, so keep that in mind.
3. Boating with Your Family
If you have young children or an aging family member, a slip can be a huge benefit. Being able to walk a short distance from your car to your boat is a luxury for parents. The easy access also allows your kids to "help" carry gear back and forth to your boat.
---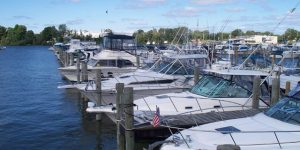 Cons:
1. Cost
As most boaters know, BOAT stands for "bill out another thousand," so it should come as no surprise that owning a boat means you'll be spending a whole lot of money on storing it. After seemingly endless costs for various maintenance fees, fuel, insurance, and other bits and bobs, you might be horrified to learn that you'll have to pay for your boat even when you're not using it.
However, storage fees are just another part of boat ownership, so keep this in mind before you make your investment. While renting a slip can be an incredibly convenient way to store your boat, it can also be one of the most expensive.
Slip rental fees vary greatly from marina to marina, with nearly all docks charging by the foot for the length of your boat. In the United States, you can expect to pay anywhere from $6 a foot to well over $250 a foot, depending on where you're trying to store your vessel.
As you can imagine, the more popular your local marina, and the closer you are to a major city, the more you'll pay. Choose to dock at a less popular locale or opt to only rent a slip during the off-season, and you'll certainly save money.
Also, keep in mind that many marinas are owned by private yacht clubs that require you to be a member to rent a slip. While joining a yacht club might be of interest to you, it does raise your annual costs, so it's not for everyone.
2. Slip Availability
While renting a boat slip can be an extremely attractive option to many boat owners, it's not always possible. Especially for those of us that live in popular boating destinations, a slip rental can be hard to come by since, well, everyone wants to rent one!
In fact, many of the most popular marinas with prime amenities and access to the best boating waters will have a waitlist that you can sign up for if you hope to rent a slip one day. Some of the cheekier marinas, such as Marina del Rey in California, charge you a deposit for signing up for the waitlist. How crazy is that?
3. Boating Range
Depending on your vessel, you might be greatly limited in your boating range for a day outing. Fuel efficiency and overall range in your vessel might be rather low, especially on smaller boats, so it's not worth renting a slip in a remote spot that's far away from your favorite fishing spots.
On the other hand, if you can rent a slip that's right where you love to boat, you can save on fuel costs and get out on the water faster with a berth rental. Thus, it's important to consider your boat's range when renting a slip.
4. Hours of Access
These days, many marinas offer round the clock access to your boat thanks to wireless key cards and various security measures that allow marina members in and keep others out after hours. However, some marinas only allow you to access your boat during business hours.
So, if you really need to be able to access your vessel at any time of day, be sure to check with your marina before you rent a slip. Often, this isn't a problem, as many marinas now offer you 24-hour access, but it's important to check up on before you sign a rental agreement, just to play it safe.
5. Security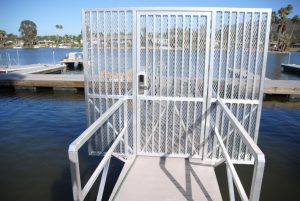 Your boat is a major investment, so you want to make sure you protect it at all times. Depending on your marina, they may or may not offer 24 hour staffed security services. While nearly all marinas will have a locked gate leading down to the berths, not all will have modern security systems nor hired staff.
So, if you're keen to protect your boat from theft and damage, you'll want to look for a slip rental that's very secure. Depending on where you live and where you plan to berth your boat, it may be safer to leave your boat at a slip than in your driveway on a trailer.
6. Privacy
When you rent a slip for your boat, you lose quite a bit of privacy, especially if you're renting a slip in a busy marina. If you like to sit and hang out on your boat while it's stationary, then you won't get much privacy in a busy marina as compared to a mooring just a few hundred yards from the docks.
However, what you lose in terms of privacy at a boat slip, you gain in convenience and access. At a boat slip, you can walk right up to your boat, start her up, and get out on the water in no time flat. It's hard to beat that level of convenience.
7. Storing a Boat in Water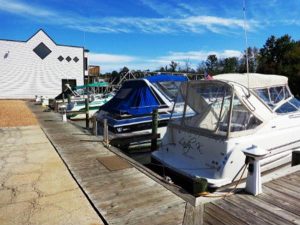 Since we use boats in the water, storing your boat in the water is a super convenient way to get out for a day of fun with minimal hassle. However, just because you leave a boat in the water doesn't mean everything is going to be just fine and dandy with no upkeep.
In fact, leaving your boat stored in water means you have to deal with a whole host of maintenance issues to keep your prized possession in tip-top shape. Keeping a boat submerged in water often results in marine life growth on the underside of your vessel.
Often, frequent "bottom maintenance" will sort everything out. Usually, this involves power hosing the hull of your boat, scrubbing it to get any barnacles off, and perhaps even adding a fresh coat of antifouling paint to keep things looking fresh. If you're not keen to get your hands dirty, most marinas offer a boat cleaning service for an additional fee.
Additionally, it's important to keep in mind that storing your boat in water can expose it to weather-related damage, especially if you live somewhere with frequent hurricanes. That being said, many quality marinas in hurricane country have plans in place for storing your boats and protecting them from damage during a storm. Just be sure to ask about this service before you sign a rental agreement.
---
Pros and Cons of Trailering a Boat
If you're not quite sure that you'd like to rent a slip, you may be interested in trailering your boat. Usually, trailering a boat is ideal for anyone who owns a vessel but doesn't get to spend that much time out of the water. Here are some of the pros and cons of trailering a boat.
Pros:
1. Cost of Trailering
The main reason why people choose to trailer their boat is that it often costs much less than renting a berth at a marina. While you do have to invest in a trailer and a truck to pull the boat, these initial investments are usually much lower over the lifetime of your vessel than it would cost to pay slip rental fees every month.
However, if you use your boat often enough, you might find that boat launching fees, parking fees, increased fuel costs for your vehicle, and the wear and tear on your vehicle might just make renting a slip worth it in the long run. If you're an infrequent boater, however, it's probably worth trailering your boat.
2. Inclement Weather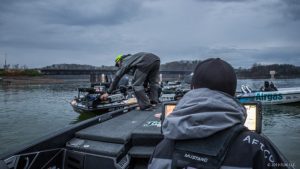 Inclement weather is a bit of a double edge sword when it comes to trailering a boat. In a major storm, keeping your boat on a trailer can be safer than leaving it tied up to a slip, depending on how protected your local marina is.
However, driving a trailer in inclement weather is a bit of a hassle, and can even be dangerous in the wrong conditions. So, it's important to keep this in mind when deciding whether or not to trailer your boat.
---
Cons:
1. Time
The major drawback to trailering a boat is the amount of time it takes to get your boat set up when you want to get out on the water. When you rent a slip, it's easy to jump right in your boat and get out on the water.
If you choose to trailer your boat, however, you now have to drive your boat to the marina, wait for a boat launch ramp (which can take forever on a holiday weekend), launch your boat, park your truck and trailer, and repeat the whole process at the end of the day.
2. Trailer Driving Skills
If you decide to trailer your boat, you'll have to learn to drive a trailer. While there's no requirement for special training for trailer driving in the United States, driving a trailer is not at all like driving a car, so if you've never done it before, it's worth getting some practice hours in before you start driving your expensive boat around.
In particular, backing up is one of the hardest skills to learn in trailer driving, but is of the utmost importance when launching a boat. If you don't think you'd be comfortable driving a truck with a large trailer attached through a busy marina, then trailering your boat probably isn't for you.
3. Space Availability
Trailering your boat is a great option for many boaters, but you'll have to find a place to store your boat on land. For those of us with large driveways or covered storage options at home, this is easy enough, but anyone who lives in the city or in a place with narrow streets and small properties will have a tough time finding a place to store a boat. Keep this in mind before you decide to trailer your vessel.
4. Boat Damage
The more you drive your boat around on bumpy roads, the more likely it is to be damaged. Flying debris, collisions, and the occasional fender bender all conspire against a boat on a trailer. That's not to say that your boat will be wholly damage-free if you leave it in a slip, but it is somewhat less exposed to damage when sitting in a marina.
5. Trailer and Cover Cost & Maintenance
When you decide to trailer a boat, you have to invest in a quality trailer and boat cover to keep your boat safe. Like a boat, a trailer costs money and needs to be maintained, so don't overlook the cost of this side of the operation.
---
Other Options
At this point, you may be wondering if there's another option for you other than trailering your boat or renting a slip. Thankfully, there are a few more storage options for recreational boaters beyond these first two choices. Here are some other boat storage options available to you at most marinas:
Boat Lift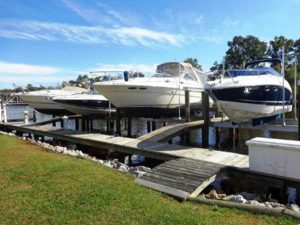 A boat lift is a device that can lift your boat out of the water in its berth for when it's not in use. Boat lifts might seem like overkill to some boat owners, but they offer some great advantages, namely in the world of corrosion prevention, protection from damage, and easier boarding. However, they tend to be fairly expensive, are an additional fee on top of a slip rental, and are best used on smaller vessels, so they're not for everyone.
Mooring
An alternative to renting a slip at a marina while keeping your boat in the water is to rent or buy a mooring, which is an offshore anchoring point, usually near a dock or marina. Moorings are great for people who want to keep their boats in the water at a lower cost. However, mooring usually has a lot of regulations attached to it (see your marina for details), can leave your boat exposed during a storm, and requires that you take a tender out to your boat whenever you want to access it.
Dry Storage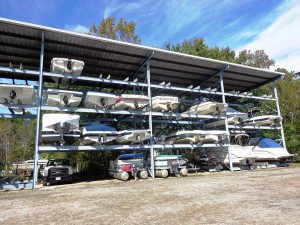 Dry Storage is another option or anyone looking to store their boat out of the water without the hassle of trailering it. Dry boat storage is basically like a parking garage for boats, where they are stacked upon huge racks with a covered roof for protection from the elements.
Dry storage usually offers a good amount of protection and security for your boat but it isn't great if you're looking to use your boat every weekend. Often, people leave their boats in dry storage during the off-season to save money on slip rentals. The good news is that anywhere you can find a marina, you can usually find an inexpensive dry storage option nearby.
---
To Sum It Up
Ultimately, storing your boat doesn't have to be a hassle. While trailering your boat and renting a slip both have their pros and cons, they're great options for different kinds of boaters. Plus, if neither renting a slip nor trailering your boat works for you, there are plenty of other options out there for storing your boat. Happy boating!