Disclaimer: As an affiliate I may earn a commission on any qualifying purchases, including those from Amazon.com, at no extra cost to you – read more.
Proper Use of Your Boat's VHF Radio
Your boat's VHF radio is one of the most versatile communication devices available to sailors. It is also the single most valuable piece of safety equipment you have on board. Knowing how to use your radio will ensure your call for help is clearly heard should the need arise. You also want to know the protocols for standard VHF communications so you aren't a nuisance to other boaters who are also using the radio.
Let's review the do's and don'ts of marine radio usage.
Radio Channels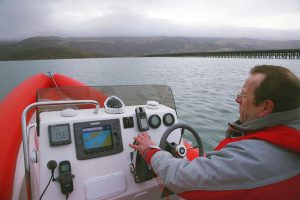 A majority of the VHF radios that are currently available have about 25 good channels. In addition to the U.S. channels, there are Canadian and International channels. These channels are standard with most of the newer units being sold. You probably will not use most of the channels on your VHF, but one channel you should be particularly aware of is channel 16. We'll explain why.
Channel 16 is used as the frequency for calling, for safety, and for distress. Any vessels that are currently in operation that have their VHF radios powered on should always monitor channel 16. Calls to marinas, businesses on land, as well as other vessels are also done via this channel. Channel 09 can be used by recreational vessels to hail someone so that channel 16 won't be as congested. However, one should recognize that channel 09 isn't monitored by the U.S. Coast Guard for distress calls. Vessels in distress must only use channel 16, as that is the channel the U.S. Coast Guard monitors for these types of calls.
Some other common working channels include channel 22, the USCG's most common functional channel. Channels 01 through 03 are used as weather forecast channels.
If you need to communicate with other boats, it's best to use channels 9 or 16 first, then move to another working channel such as 68, 69, 71, or 72. It's always important to make sure that you check for authorized channels you are allowed to use in your location and read up on local limitations.
Read my article on why your cell phone is not a substitute for a VHF radio.
Basic Marine Radio Usage
Using your VHF is as simple as turning it on, selecting a channel, setting the squelch to where you aren't hearing any white noise, and then talking into it. Here are some important things to note whenever you are using the radio:
When you're not talking to someone else, continue to monitor channel 16. It's not required for people who are boating recreationally, but it is an unspoken rule.
Never tie up channel 09 or 16. If you're talking with someone about a non-emergency related situation, use another channel so you're not tying up the frequencies on 09 or 16. Should you abuse the use of these channels, the Coast Guard may order you to change over to another channel.
VHF radios are not telephones. Whenever you're using a VHF radio, anyone can hear you no matter what station you're on. Keep your language clean and keep your conversations to the point and rief so that others can also use the channel.
It is illegal to transmit phony distress alerts or to transmit an alert intentionally without taking the proper steps to cancel it.
Calling for Assistance
Should an emergency arise, there are a couple of procedures that must be followed to ensure you're receiving the appropriate response to your situation. Here are three phrases you'll often hear on a typical VHF radio that are related to safety.
Mayday is a distress signal that requires a response right away. It can be used whenever a boat or a person is in imminent or serious danger and needs help.
Pan-Pan (pahn-pahn) is used to signal vital information such as a boat or a person drifting into a busy shipping channel or onto shore. If the emergency isn't life-threatening, Pan-Pan is the most appropriate phrase to use. One example would be if your ship had a leak that was controllable, but you need someone on stand-by should the situation become worse.
Securite (sea-cur-i-tay) is a signal related to safety and is used to convey information regarding safe navigation. Should a large commercial boat, for instance, attempt to pass through a narrow channel, this type of signal would be used. This signal can also be used to convey important weather information such as an incoming hurricane.
There are procedures in place for sending distress calls out, but the only thing you need to remember is to turn your VHF radio to channel 16 on high power, press the talk button to key the mike, and say one of the above phrases three times along with your location. To give you a general idea, here is an imaginary story about Tambourine, a small fishing boat:
"Mayday, Mayday, Mayday. I'm on the Tambourine and our position is 74:56' west and 24:33' north. We are sinking."
Speak as clearly and slowly as possible so the person on the other end can understand you. As you're repeating the information three times, remain calm. The most important information you want the Coast Guard to know about is the Mayday itself, where you're located, and what the emergency is. If you're able and have enough time, describe what your boat looks like and how many people are aboard. If anyone is injured, let them know that as well.
If you don't receive a response right away, continue to send out your Mayday periodically as long as your radio is able to function, making sure you let someone know where your position is during each transmission. If you have some time available and you can do this, scan other available channels and broadcast your Mayday through them even if you have to interrupt radio traffic to do this. If there isn't any traffic, you can attempt to transmit your Mayday on the Coast Guard's Channel 22A.
Easier Than One, Two, Three – Digital Selective Calling
All VHF radios come equipped with DSC, or Digital Selective Calling. This feature includes a mayday-equivalent button. VHF radios with fixed mounts also have this feature. The button has the "DISTRESS" label clearly marked on it. When it is activated it broadcasts encoded distress calls automatically. The calls will be picked up by any vessel that has a DSC VHF radio along with the U.S. Coast Guard vessels and shore stations. If your GPS is interfaced with the radio, it will broadcast the position of the distressed vessel. In order to use a DSC radio, an MMSI, or Maritime Mobile Security Identity number needs to be obtained. This number is free of charge.
Other useful features of a DSC radio include hailing or calling boaters who may be fishing or traveling together. If you know the other person or people's DSC numbers, you should not have a problem getting in touch with them. Instead of hailing by speaking into a microphone, all you have to do is press a button. If you want to learn more about DSC radios, what their features are, or how to install one, check out the BoatUS Foundation tutorial video which you can find here.
How to Go the Distance with PLBs and EPIRBs
If you wish to take a voyage offshore, as a reminder, cell phones or VHF radios are limited in terms of range – typically no more than 15-25 miles from the shore. Should an emergency arise and you need assistance or help, a Personal Locator Beacon, or PLB, or an Emergency Position Indicating Radio Beacon via satellite, or EPIRB, are important items to include on your boat as they may be your only chance of getting rescued.
Both of these beacons are used as a distress system worldwide and are designed to reliably and quickly alert emergency personnel, give them an exact position of where you are located, and direct an emergency crew to the scene should other communications fail. When the beacon is activated, the unit transmits a distinctive signal that incorporates precise information about where your ship is located and incorporates your exact location. These beacons are required to be registered by law so emergency personnel will have access to trustworthy information.
Personal Locator Beacons can also be used by adventurers such as hikers so that vessel information can be easily changed to show other activities with different descriptions.
As these particular units can be expensive, PLBs and EPIRBs are rented by the BoatUS Foundation for Boating Safety for far less than what it would cost to own one of them and are made available to any boater who wants the peace of mind emergency beacons offer. Click here to learn more about these two different types of beacons.