A decent chartplotter for your boat can cost well over $1000, and then you have to consider installation costs and accessories. Many boaters see a less expensive way to add a large-screen GPS device to their helm. Using a tablet makes a lot of sense for many boaters, but it comes with a few pitfalls too.
Which Tablets Make the Best Chartplotters?
The most important caveat to using a tablet for this purpose is to realize that not all tablets come with a built-in GPS chip. For example, Apple only includes this technology on its cellular model iPads. If you buy a wifi-only iPad, you will not have any position data available.
Since all manufacturers make their tablet line ups with different specifications, and they continually update their offerings, you must research the tablet that you have and figure out if it has any location detecting chips inside.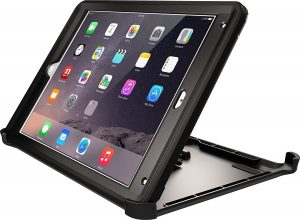 But let's say that you already own a wifi-only iPad or another tablet that doesn't have a GPS chip built-in. Can you still use it on your boat? Several companies make Bluetooth or wifi accessories that will provide the GPS signal to your tablet. These cost a few hundred dollars, but still might be a better choice than buying a whole new tablet. Dual, Bad Elf, and Garmin all make various external GPS modules.
Using a separate GPS module should provide an excellent position that is likely more accurate than an internal chip. One possible problem, though, is that it might limit the apps that you can use. For example, if you pair your tablet with an existing wifi chartplotter, you might have to use that chartplotter's brand-name app.
Beyond the GPS chip, you want your tablet to have enough free space on its hard drive to download charts. This probably isn't much space, and unless you have a lot of photos or music on your tablet, you'll be ok with about any model. When looking at different boating apps for your tablet, make sure that you can download the charts directly to the tablet. Otherwise, it might not work when you leave your internet connection onshore.
---
Benefits and Downfalls of Using a Tablet
Once you get a tablet that has a reliable GPS position indicated on it, there are many popular apps that you'll find useful. Perhaps the biggest advantage of this is that you can use a wide variety of apps from different publishers, and therefore get a variety of different charts to use. All of the big charting companies offer tablet apps, and they are generally much cheaper than the chips made for chartplotters.
The Navionics Boating app is very clean and makes an excellent stand-alone chartplotter. The app offers three sets of charts for a low price. You can easily select between government, standard Navionics, and Navionics Sonarcharts.
Another slick app is Aquamaps, which features some great additional data you can overlay on the chart, including Army Corps of Engineers hydrographic surveys, Waterway Guide marina and anchorage information, and Active Captain boater reviews. But there are many other great boating apps out there to try, and these are just two samples.
There are some downsides to using your tablet as a chartplotter, however. The main problem is that their screens can be challenging to read in bright outdoor lighting. They are also prone to overheating if left in direct sunlight. Polarized glasses may blank out the screen, depending on the angle at which they are viewed. And even in a waterproof case, their touchscreens often go haywire when water gets on them. At night, most tablets are too bright and will interfere with your night vision. Luckily, most boating apps offer a way to reduce the brightness further than the standard settings allow.
The apps have some limitations too. With the right equipment, it's relatively easy to transmit NMEA 2000 network data to a tablet or computer on board. But this is limited data, and most newer radar and sonar systems are going to require a chartplotter to use them.
---
Using a Tablet Together with a Chartplotter
You might also find good use for your tablet if you already have a wifi-enabled chartplotter on board. Most plotter manufacturers provide an app that allows your tablet to communicate with your plotter. You can use the tablet for planning and research, and then send waypoints and routes between the two devices. It's often easier and faster to navigate through charts and look at your routes on your tablet.
You can also view and control your chartplotter remotely, which might come in handy if you are driving from a second helm station, or you want to view your chartplotter's screen when down below.
For long-distance cruisers, it's also a good idea to have a tablet on board that can function as a backup to your chartplotter. As boaters, we know that things can fail unexpectedly, and having the right apps on your tablet will help you plan trips better and might save your bacon one day.
---
Must-Have Accessories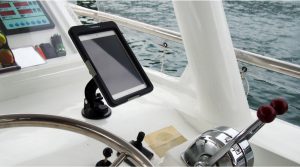 A waterproof case is a great idea for your onboard tablet. While you might think it's high and dry at the helm, you might be surprised how easy it is to get dripped on. It's also easy to accidentally leave it out at the helm, and it wouldn't be unheard of for it to get rained on. Boat life is tough on the best of equipment, and most tablets and computers aren't built for it. Invest in a brand name case like a Lifeproof or Otter Box.
You'll also need some way to mount the tablet at the helm. There are a wide variety of mounts available on Amazon for low prices, a nice benefit since you might have to play around to find one that works. Look for wall mounts if you have a flat surface. If on a sailboat, you can usually find inexpensive bicycle handlebar mounts that will easily attach to railings or binnacle grab bars.
The last thing to consider is keeping the tablet charged. Most boats have a 12-volt outlet somewhere near the helm anyway. A simple car charger will suffice. Remember, most tablets use a two-amp USB charger, which offers more power than most small cell phone chargers.
---
Conclusion
Tablets make a great addition on board your boat, especially if you travel a lot and like to flip through charts. If you're looking to save the money and don't think you really need a name brand chartplotter, then a tablet is a great solution. With the right accessories and by finding the right app for you, every boater can benefit from using a tablet onboard.