Are you a boating enthusiast? Do you love being outside, on the water, with the ocean breeze in your face? If you do, there are several smartphone apps that can make your boating experience much more enjoyable.
A lot of really great apps are available for amateur captains looking for the local weather conditions, marine navigation, and help with vessel maintenance and repairs. Some of these apps are more user-friendly than others, but most are easy to use with a little practice.  We evaluated 12 of the most popular boating apps for weather, navigation, and maintenance. Whether you're boating for fun or business, these apps will make your experience less of a hassle and more of an enjoyable experience.
We've compiled a list of the best smartphone apps for boating just for you!
Best Weather Apps for Boating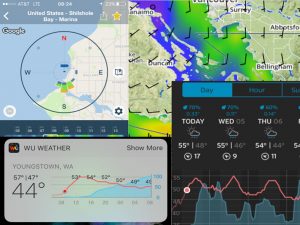 Checking the weather before each outing is a must. If you're aware of the impending weather conditions, you'll know what to expect while enjoying your day out on the water.
Wave height, wind strength, and high or low pressure systems can determine whether or not it's safe to be out on the water in a certain area. You can read the clouds and check the weather before you leave for the day to get an idea of what the weather is going to consist of, but for more accurate knowledge use a weather app designed for marine travels.
Top Features to Look for in Boating Weather Apps
Real-time Weather Forecast
Predicted Weather Forecast
Automatic Updates
Emergency Alerts
---
1. Marine Weather
The Marine Weather app by Accuweather has some of the highest user ratings. This app can be easily downloaded on iOS and Android devices. The goal of this app is to inform and keep boating fanatics up-to-date on all surrounding weather situations.
Not only does this app provide a detailed weather forecast, it also includes GPS navigation. If you find a good fishing spot or an area you'd like to further explore, you can save the GPS points to guide you back to the same location at a later time.
2. My Radar NOAA Weather Radar
Designed by the Aviation Data System, this app provides detailed, real-time weather updates and predicted forecasts. The My Radar app is highly reviewed and rated by users.
It has some really great features; you can opt-in to receiving emergency weather alerts regarding dangerous weather conditions. You also have the option to get accurate, detailed wind animation and temperature shading. My Radar is user friendly and will add value to your boating trips.
3. Navionics Boating
Navionics is a very detailed app that offers multiple features. This app has access to several different types of oceanic and maritime charts including an electronic copy of NOAA Rasters. The app allows you to use your device as a plotted chart for navigation anywhere in the world. When changes occur, the app is updated automatically so you'll always be in the know. It allows users to be aware of weather forecasts every mile of the journey.
4. U.S. Coast Guard Mobile App
The U.S. Coast Guard Mobile App is a very detailed app. It provides all kinds of different information for boaters. It includes safety information for personal and commercial boating, weather updates, and allows users to report anything that seems suspicious. If a suspicious circumstance is reported or if you run into trouble, the Coast Guard will send a boat out to the location immediately. The weather updates come from NOAA so they are extremely accurate and up-to-date.
---
Best Navigational Apps for Boating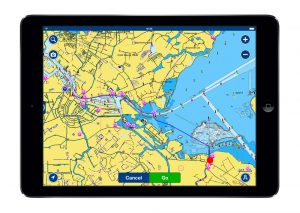 Nowadays, smartphones are used for everything. GPS Navigation on a smartphone is pretty simple and accurate. You've most likely used your GPS while driving, so why not use it while boating too? Navigational boating apps are equip with detailed maps which include depth, high-tides and low-tides, and several other important details that will allow you to determine the best and correct path to take during your boating adventure.
Top Features to Look for in Boating Navigational Apps
Real-time Maps
Plot Charting
Wifi Ability
Offline Maps
---
1. Navionics
We already know Navionics is great for weather and navigation while boating. Right now, we'll take a closer look at why Navionics is such a good choice for navigation. Navionics will make navigating your vessel extremely easy.
It includes GPS plotters and sonar charts with HD contours allowing maximum knowledge of your surroundings. You'll receive obstacle and high-tide alerts which will aid in smooth route of travel. If there is an osbstacle in your path, you'll have access to maps to determine an alternate route.
You can also download offline maps to use if you expect to be out of range for mobile signal.
2. Raymarine Rayview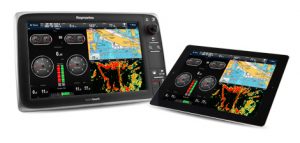 Raymarine Rayview turns your smartphone into a chart plotter and a radar. It offers two different multi-functional display types; the C-series and E-series. The maps are high-quality and accurate. With this app you can screen-shot and save locations directly to your camera role for later reference. Raymarine Rayview is a great option for navigating your way around any body of water.
3. Sea Nav
Sea Nav is really cool because it offers augmented reality. If you're looking for an exciting and fun way to navigate your boat, this is it! You can connect your camera with the app and view your route in a virtually real way. The app includes detail information with maps and weather updates. Nobel Tec and Pocket Mariner are similar to Sea Nav and work equally as well for navigation.
4. Sea Pilot
Sea Pilot offers automatic tracking as well as navigation. Weather forecasts, charts, and routes are updated automatically providing a live view of all needed information. You can download maps directly to your phone for later viewing or times with no mobile signal. When your smartphone is connected to wifi, you can connect the app to your boat's sensor which makes this app stand out from the rest.
---
Best Boat Maintenance and Repair Apps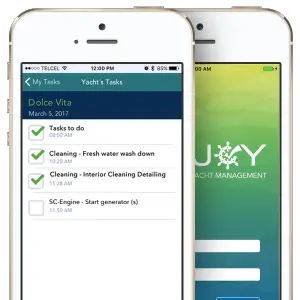 In order to continuously enjoy your boat you'll need to maintain the condition of your boat and make repairs as necessary. Purchasing a boat is a big financial decision, it's wise to protect your investment as much as you can. There are apps available for iOS and Android devices that will help maintain the condition and track repairs for your boat.
Top Features to Look for in Boating Maintenance and Repair Apps
Tips and Tricks
Note Taking
Ability to Log Trips and Fuel
---
1. Boating Suite
Boating Suite is a maintenance app designed by boating enthusiasts, for boating enthusiasts. This app will take some of the stress of maintaining your boat off your hands. It allows you to log trips, fuel, expenses, and to do lists. The screens are easy to navigate and very user friendly. In this single app, you'll get a complete picture of everything you need to know about your boat. All your important information is available in one place.
2. Marine and Lakes
Marine and Lakes is an app of all trades. With this app, you can track the weather, view and download different maps, and keep up with boat maintenance. Marine and Lakes is an extension to Navionic. You can use it to easily find gas stations and repair shops while you're out on the water or on land.
3. U.S. Coast Guard Mobile App
This is an app backed by the military. The U.S. Coast Guard is committed to safety on the water. Inside the app, you'll find a plethora of information. Weather, charts, and information are all easily accessible within the app. It also includes safety information and boating maintenance tips and tricks.
4. Boating Essential Safety Gear
This app gives you a look at some of the coolest and most desirable items to help maintain your boat and keep you safe. In this app you'll find a really handy safety checklist to make sure your boat is up to par with all the safety standards. You'll also have access to repair and maintenance tips. This is a really great app for keeping your time out on the boat safe and fun.
---
Final Thoughts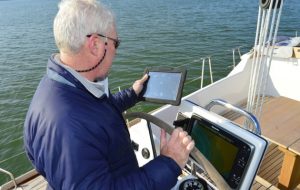 You love your boat, right? You want to have a great time every time you set sail, correct? Each one of these apps will contribute to a better experience every time you're out on the water.
It doesn't matter if you're taking a long or short trip, you'll find these apps extremely useful. They are all designed for you to make the best of your boating experience, while keeping you safe.
Weather, navigation, and maintenance are all extremely important factors to consider before and during each boat trip. This list has been thoughtfully compiled by a boating enthusiast to help you have a fun, hassle free time with your amazing boat.