Disclaimer: As an affiliate I may earn a commission on any qualifying purchases, including those from Amazon.com, at no extra cost to you – read more.
Is It Time to Upgrade Your Boat to LED Lights
This rapidly evolving technology makes for great alternative lighting options. The latest styles offer creative ways to save a noteworthy amount of energy and avoid draining your battery. They use eighty to ninety percent less energy compared to conventional incandescent light bulbs. With a wide range of uses, I definitely recommend LEDs as an alternative light source.
Should You Use LED Lights?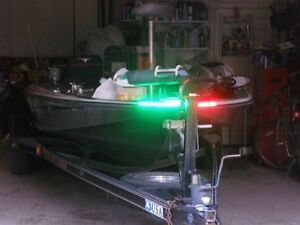 It's normal to be skeptical, especially with new technology. I'd be worried if you didn't have questions. Below you'll find a list of answers to the more common questions. They aren't comprehensive, to be sure, but they are the most asked when a conversation centering around changing over comes up.
They remain proven as the more efficient light source. Shape and/or size of LED lights doesn't affect their capability to save energy.
They can be ordered in a preferred color without using color filters, unlike other conventional bulbs or tubes.
They're smaller, and you can populate them on a boat with ease.
Response time outshines every conventional bulb because they achieve full brightness within microseconds. Keep in mind they are used in different communication devices and have a faster response rate. Plus don't forget, they can be connected to a dimmer easily to satisfy your personal preference.
Replacement and installation is a breeze. You can probably swap out your old lights with a screwdriver because the existing wiring works just fine with LEDs. Changing out the regular light bulb with a brighter style remains easy and seamless because they often have the same housing as the old fashioned bulbs.
You have the option of wireless as well. Battery operated, wireless lights are convenient and useful in places without wiring available. Perfect for use in lockers, or adding light to areas limited to small spaces.
LEDs used for exterior lighting are better and last longer than other lights installed during construction of your boat. Upgrading the lights will add value overall.
You have a limited budget? They are great for above and underwater installations. With prices the budget conscious won't cry over, they help keep the cost of running the boat down.
They save up to ninety percent of lighting cost with ease.
For All of Your Lighting Needs
Don't believe they can only be used for interior closet lights. They are perfect for all boating uses, above and below the water.

1. Navigational lights

Different companies have designed various navigational lights. They use a diverse range of colored bulbs to ensure the lamps are in accordance with the defined rules for navigational lights.

2. Anchor lights

Perfect to use as anchor lights. It's easy to find what you need with an integral switch to turn the light on and off automatically as needed.

3. Bow lights

Bow lights are basically white light displayed in the forward direction at anchor. Since they are brighter than other bulbs or tubes they can be installed as bow lights.

4. Cabin Lights

Perfect to use as torches or cabin lights. Whether using already installed ceiling fixtures, adding can lights, or using wireless fixtures, they are versatile and easily take over the job of old fashioned style bulbs or tubes.

5. Console Lights

Can be used as console lights on a boat of any size. Required to be on viewpoint when boating at night, they are reliable and long lasting.

6. Docking Lights

Docking lights is the best way to increase safety, attract more fish and offer assurance you can create the perfect atmosphere.

7. Deck Lights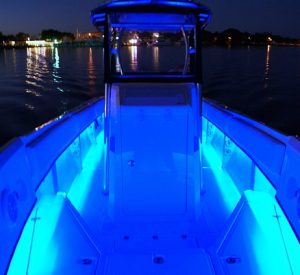 Display the lights on deck. Commonly used to make the boats attractive and add a personal touch. With a variety of colors, they are commonly used for party boats, and larger yachts, but that shouldn't stop you from being creative.

8. Flood Lights

They can be used at night when it is hard to see the direction of the waves. Installation as flood lights are also used to send signals at night, or in case of storms. They are perfect additions to enhance the safety of your boat.
Are LED Lights Compliant with United States Coast Guard Requirements?
United States Coast Guard (USCG) offers a list of boating safety equipment considered the minimum equipment essentials under federal law . Included in the list are life jackets, fire extinguishers, ventilation, visual distress, First Aid Kit, Tool Kit, extra fuel and water.

But if you want to see boat compliant lighting with the USCG requirements, it would be better to understand the USCG requirements are for safety measures. Instead, check USCG rules for lights according to the size or type of your boat.

Use of them in boats is growing as the preferred source of lighting. Educate yourself, nobody wants fines, or other issues, to occur because the lights don't follow guidelines and requirements set out by the USCG. You have to know the rules and regulations that are a must for various types of installations such as colors or light intensity.
How to Install LED Lights on Your Boat
You can find light strips from most local stores. Select colors according to your requirement for necessary lights, and the ones you want for decorative purposes. You can tie-in the lights to a switch panel and fix the connectors at the end. To connect the wire, strip ¼ inch of the insulation off the end and insert the copper wire into a male terminal connector. Crimp with a crimping tool, found in any DIY store. Doing the easy steps provided will give you a professional tie-in making it simple to be connected and disconnected as often as you need. Cover with hot glue to make it waterproof and provide better support. Connect different colors of wire to distinct panels making them easier to identify by unscrewing the switching panel. Sticking the the strips to the rod tray is fairly quick and easy. Flip the switch and watch your lights shine.
Professional vs DIY LED Installation
Changing over will add value and safety to your boat, and while we may not want to think about it, safety does have a place in our thoughts. The installation process, however, has some challenges. Especially for those not exactly DIY capable. Overall, even if you know the difference between a fuse and panel, amps vs voltage, or why a particular wire should be blue, DIY methods are cheap to perform but the professional installation of the lights can improve the overall safety of your floating fortress. One benefit of hiring a professional is the comprehensive understanding of the color factors, light angles and brightness level required for relevant installation. The more complicated the installation, the more it would be prudent to pay a professional to complete the job for you.

DIY installation can be beneficial for smaller projects if you have the right skills and tools. Installation of wireless is a simple add batteries and stick to the wall/ceiling method, and other changes are as simple as changing a light bulb.

Consider what works best, and be honest about your level of expertise before taking on a larger project.
What Type Can Be Installed?
If you are looking for the correct types of boat lights, the following may be helpful:

Marine Grade LED Lights

As popularity grows, many want the benefits. For a boat owner, the best option is marine grade lights. Found at many electronics stores and sometimes available in the ready-to-go form, some are also available at many online retailers to fit your specifications. Marine grade lights are designed for water and simply work better in water regardless if its salt or freshwater. Marine-grade lights are waterproof and stay in working condition for a longer period of time.

United States Coast Guard Approved

Whenever speaking about boat safety in the United States, the USCG will be the ruling body. USCG approved boat lights are best because nobody wants to try and explain why they decided to choose noncompliant lights. Whether navigational, interior, or exterior, you must use approved lights according to the standards of the USCG regulations. You can find some manufacturers in your area who are compliant with USCG requirements, or even at online retailers.
Selecting Light and Luminosity
It is important to wisely select the color and luminosity of the lights to be used on your boat. Many colors are available, however, for required areas, it is best to stick to white. There are interior areas, and some deck areas, using colored lights will add the flair you want, create a mood for all of your passengers, and a signature looks unique to your boat. I do recommend you carefully research the requirements for brightness in well-regulated parts of the boat, and adding a dimmer switch is a definite must.
How Long Will LEDs Last on Your Boat?
Rated for a service life of fifty thousand to one hundred thousand hours, or around thirteen years minimum. Conventional light bulbs have a service life of approximately three thousand hours, or about three hundred days (if both types of lights are used for ten hours per day). They generally don't go out suddenly but dim gradually. Because of their length of service life, they help save money in the long run.
Innovating and Creative Lighting Options
A few light options to consider:

Having them interfaced with speakers. Most popular marine rated speakers are built with the new feature of built-in lights. Careful planning can be advantageous and help you upgrade two features at the same time in your boat; better quality of sound and perfect lighting.

If you want to get cool and different lighting effects, consider picking up strips. The strips are flexible, easily mounted, and trimmed to the right length for your project.

Color Options

Available in a variety of colors, the current selection makes it easy to create a combination for your personal tastes. Keep in mind to get the specified colors for navigation lights, flood lights, etc.
USCG Warning and Radio Interference

The USCG issued a Marine Safety Alert warning stating the popular lights may cause interference with VHF radio reception. The power supply may generate electromagnetic fields which can produce reception problems with VHF radio and Automatic Identification Systems (AIS).

The USCG received reports from ship crews about interference when in the vicinity of these types of lighting. The issue includes all types of the light emitting diode lights such as navigation lights, search and floodlights, interior, and exterior lights, as well as decorative lights.
Bottom Line
Changing technology in every field of lighting being used on your boat are designed to replace the interior, navigation lights, or above deck light fittings. If you are thinking about why it is better to use the new technology for boat lighting, keep in mind they react quicker than other conventional lights. Plus the added advantage of being long-lasting and using less energy, creating savings in your pocketbook, both in the short and long term. And who among us doesn't want longer battery life, lower fuel costs, brighter and longer lasting lights combined with the ability to create the atmosphere you seek?

Do a little research to find the proper marine grade and the guidelines set out by the USCG for necessary lighting. A little elbow grease will forge a boat you want to show off, use more often, ensure safety on the water, all while saving money. And who doesn't want that?