Ski Tow Bars and Accessories for Pontoon Boats
Recreational boaters enjoy water sports because they allow them to spend time with friends and family doing the things they love – being on the water, enjoying the summer sun and feeling the cool spray and wind that only boating can provide. Pontoon boats are one of the most popular type of boats, and as more and more people buy them, these boats are finding new applications. A favorite activity is waterskiing, and many people are finding that they can ski behind their pontoon boats.
A variety of manufacturers offer a wide assortment of aftermarket ski tow bars and rope harnesses that allow you to carve the waves and even score airtime. If you've been looking for a ski tow bar or boat cable tow harness for your pontoon boat, Aerial Wakeboarding has a new universal tow bar
that you may be interested in.
What's It All About
Aerial Wakeboarding makes a wide variety of aftermarket products to allow you to ski, wakeboard, and tube with your pontoon boat. Their latest product, the ski tow bar, allows you to fit your pontoon with a stable bar for pulling skiers. This aftermarket tow bar is made of polished aluminum which gives it a very professional look and offers great corrosion resistance. One selling point for me – when compared to custom fabricated versions available from the pontoon manufacturers, the Aerial Wakeboarding Pontoon Ski Tow is much more affordable.
World-wide, spending on pontoon boats and accessories is estimated to be $3.638 billion. A big part of this market's recent success is the versatility of pontoon boats and their overall affordability.

Description of the Ski Bar
In the past decade, pontoon owners have been demanding aftermarket products that allow them to use their boats in new and exciting ways. Recently, ski bars designed for pontoon boats have become very popular, especially as these boats are being fitted with larger engines. Aerial Wakeboarding responded to the market by designing a rugged and stylish bolt-on bar that can be mounted on most brands and models of pontoon boats.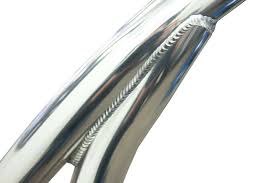 The Pontoon Ski Tow is constructed of 2.25-inch diameter 6061-T6 aircraft aluminum tubing on the mainframe and 1.5-inch diameter tubing on the side support. It is welded and polished to a mirror-like finish. The impeccable welds are an indication of the overall quality and craftsmanship of the tow bar. In the center of the cross-beam is a beefy tow point that you can connect your ski line to. Aerial offers a 5-year warranty on their Pontoon Ski Tow bar. With quality construction and a solid warranty, you won't have to worry about this accessory holding up to heavy use.
A nice feature of the Ski Tow bar's design is its small footprint and low profile. Each mounting plate measures 3-inches wide by 17-inches long. The full width between the mounting feet is just slightly over 39 inches. It is designed to straddle your outboard motor on the swim platform without eating up a lot of valuable real estate.
One important thing to note before you purchase this ski bar – measure you boat's swim platform to be certain it will fit. You also need enough room to clear the engine at full tilt and trim.  Given it's 35.896 inch height, this shouldn't be a problem for most pontoon boats.
The manufacturer warns that the Pontoon Ski Tow Bar is not intended for tubing or for pulling things like donuts, deck tubes, ride-ins, ride-ons, or rockers. If you're looking to use these towables with your pontoon, you should look for another towing bar.
Check out my article on the best ski boat.
How to Assemble the Ski Bar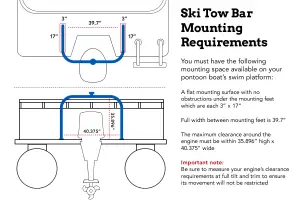 Aerial Wakeboarding has a lot of high-quality water sports products that are designed for do it yourself" installation. This ski bar can be installed within hours and includes easy to follow instructions and step-by-step videos that are available online.
The ski tow bar arrived in one box. It included three separate mandrel sections that were bent and welded. Because this is a one-size fits all system, it came with two lengths of hardware to allow for mounting to either the inner or outer bolting locations. I found this tow bar to be a good balance between affordability and quality – especially in comparison to the high cost of a custom fabricated unit or even the one offered by my boat's manufacturer.
My experience with this product (and I'm not very handy) is that it is a very simple and quick DIY project. I started installing the ski bar in the morning and we were using it right after lunch. Assembly only requires three steps:
Bolt the top crossbar to each of the uprights with the included hardware
Mark and drill holes in the boat's deck.
Mount the assembled ski bar to the swim platform.
It comes with an easy to follow instruction manual that outlines all of the mounting requirements in an easy to follow way. The instructions are also available on the Aerial Wakeboarding website.
Check out this YouTube video about Opening the Box and assembling the tow bar.
Performance Evaluation
I gave the ski bar a thorough test with my family. We had skiers ranging in age from 10 to 58 with the smallest person weighing 70 pounds and the largest tipping the scales at 210. I skied for about 30 minutes over the course of an afternoon. The bar is rigid and doesn't move or flex, even when the boat was in a tight turn with me pulling hard against the rope and swinging wide. I found the height of the tow point to be very comfortable – it's about the same level as a Ski Nautique. Obviously, skiing behind a party boat is not the same as with a true ski boat, but the Aerial ski bar gave me and my family a great afternoon.
What Does It Cost
Aerial offers their new ski bar at $599 on their website. Shipping is $42 by UPS Ground. If you're in a hurry, two day air is $195 and next day delivery is $226.
You can also pick this up at Amazon (link to product page
).
Recommendation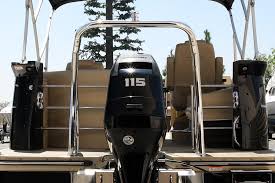 If you're looking for a ski bar to add to your pontoon boat, the Aerial Wakeboard Universal Ski Tow Bar is a solid option.  It can handle a 200+ pound man in relatively rough waters and holds up to tight turns (for a pontoon boat). Even with the surges that come with navigating across other boat's wakes, the bar didn't flex and performed well. On hole, I would give this ski tow bar two thumbs up.