Disclaimer: As an affiliate I may earn a commission on any qualifying purchases, including those from Amazon.com, at no extra cost to you – read more.
Boat Covers – Complete Guide
If you own your own boat, chances are pretty high that you're interested in keeping it in good working condition. However, boats experience a lot of wear and tear throughout their lifetime that can make it difficult to keep your vessel looking new. Especially if your boat spends a lot of time in storage or sitting in a marina, there are parts of your boat's maintenance that just might fly under the radar.
More often than not, we see perfectly good boats that are aging rapidly because of one simple thing: they're left uncovered when they're not in use. Whether or not you're out on the water every day or every other weekend, a boat cover can potentially do wonders for protecting your investment. But do you really need one?
If you're considering a boat cover as your next purchase, you might not know where to start. That's why we've put together this ultimate guide to getting the boat cover that's right for your needs. Let's get started!
Should you have a cover for your boat?
If your boat is stored outside, it's constantly exposed to the elements. The harsh UV rays of the sun, the freeze-thaw cycle, and the random bird droppings all do a number on your boat's nice gelcoat and electronics, especially if your vessel is left out for weeks and months at a time.
Basically, a boat cover is ideal for anyone that wants to protect the most important (and expensive!) parts of their vessel. This includes your boat's center console, towers, or other valuable features. If you're like most boat owners, you'll probably want to invest in a cover for your vessel.
However, many people wait far too long to get a cover for their new boat, thinking that they need to search and search to find the one that's absolutely perfect for their vessel. While you certainly don't want to skimp on quality for your boat cover, the most important thing is that you cover your boat as soon as possible to prevent unnecessary and costly damage.
Types of boat covers
Now that you understand why you need a boat cover, let's talk about the different kinds of boat covers you can buy. There are a number of different types of boat covers, each with their own pros and cons. Here's what to look for:
Custom boat covers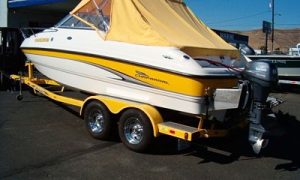 A custom boat cover is exactly what it sounds like. These covers are made specifically for your boat – not just the vessel's model. This means that your boat cover is specifically designed to protect any and all of the most important aspects of your vessel, without cutting any corners.
As you might imagine, a custom boat cover is going to provide the best protection for your vessel. Of course, this comes with a higher price tag, and you should expect to pay a pretty penny for the extra specialized protection that a custom boat cover can offer.
Semi-custom boat covers
Semi-custom boat covers are often seen as a good alternative to a custom cover for people who just can't justify spending the extra cash. These boat covers are made for a specific style of boat and are tailored to fit your boat's length and width.
Generally, these covers look and feel like they're made for your boat but don't have as much of a high price tag. The main downside to these covers is that they aren't made to protect any special after-market additions or customizations that you may have made to your vessel.
Universal boat covers
Universal boat covers are often the cheapest of the boat covers because they are made to fit over a range of different boat sizes and types. They are easy to order off of the internet or can be picked up at many marine supply stores. As you might imagine, universal boat covers don't provide as much protection for your boat because they don't have a custom-fit, but they still get the job done in an affordable manner.
Center console covers
If you have an open boat with a center console, it may be more economical to get a cover just for the center console. Since the center console is the home of your vessel's sensitive electronics, this kind of cover can protect what's most valuable on your boat without breaking the bank.
Of course, while these are often an affordable option, they don't protect the rest of your boat's gel cover, so they're best used in the height of summer when you're frequently on the water. When you store your boat for the winter, however, it's best to get a full boat cover to protect your vessel.
Boat cover materials of construction
Boat covers come in a wide range of different materials, each of which shines in a different capacity. Generally, boat cover materials either prioritize strength and abrasion resistance or affordability, so there's always a trade-off when selecting the right materials. Here's what you should look out for:
Cotton and polyester
Cotton and polyester blends generally don't hold up as well over time as their synthetic counterparts because they tend to break down in UV light and when exposed to mildew. However, they tend to be fairly affordable, breathable, and have a good strength-to-weight ratio.
Generally speaking, cotton and polyester materials are found in the more economical boat covers on the market. If you want a little more bang for your buck with a cotton or polyester blend boat cover, you can look for one with an acrylic coat, which can make the cover more durable and abrasion-resistant.
Synthetic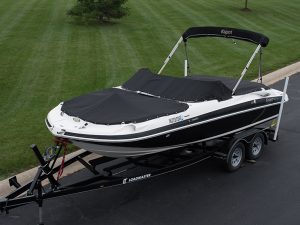 Synthetic fiber boat covers, especially when coated with acrylic or urethane, are often the best boat covers. These synthetic materials are pretty robust and tend to hold up well over time. For the most part, acrylic or urethane-coated synthetic boat covers are durable and breathable, yet are also stain, UV, and mildew resistant, so they're great at protecting your boat.
As you can probably guess, however, this high performance generally comes with a larger price tag than what you'd find on a cotton or polyester boat cover. While you might initially be discouraged by this high cost, it's important to keep in mind that a quality boat cover is designed to protect your boat, which is a large investment in its own right.
Popular and Effective Boat Covers
As I mentioned earlier, there are a lot of choices when you're in the market for a boat cover. I find it difficult to find brands that you like or covers that will fit your boat.
To help point you in the right direction, I've collected the information of a few covers that have served their customers quite well over the years. Obviously you need to make sure that these covers will be good matches for your needs and the size of your boat but they're a good place to start!
Each of these come highly recommended and are ranked in order of price. Check them out and see if they seem like good fits for you.
Anglink Waterproof Bass Runabout Boat Cover 17-19 feet
The Anglink boat cover comes with 11 adjustable straps and quick-release buckles to keep it attached while on the road. This particular unit is designed for 17 to 19 foot V hull runabouts, but other sizes are available An elastic cord around the bottom helps to keep it in place and reduce flapping. Comes with a mesh storage bag.
This cover provides very good waterproof performance by using a marine grade polyester canvas. It features an inner layer PU coating with a waterproof strip on all seams to address the issue of water seapage. It has a coating to protect from UV damage and avoid fading.
For more information on this product, including customer reviews, additional pricing information, and photo galleries, visit the product on Amazon here.
AmazonBasics Boat Cover for V-Hull Runabouts and Bass Boats 20-22 feet
This trailerable boat cover is designed for V-hull runabout boats that are 20 to 22 feet long and up to 106 inches wide. It can protect your boat while in storage or on the road. It is made of polyester to provide a durable product and avoid shrinking or stretching.
This cover is available in light grey, which is about as neutral a color as you'll find. It can be cleaned by washing with warm water. Amazon provides a 1-year warranty with this boat cover.
For more information on this product, including customer reviews, additional pricing information, and photo galleries, visit the product on Amazon here.
StormPro Center Console Boat Cover with Accessories 17-19 feet
This boat cover is designed for center consoles without roofs. It is constructed of heavy duty fabric so you can use it on the highway as well as long-term storage. It has adjustable straps with quick release buckles.  It comes in various sizes to accommodate boats from 14 to 24 feet long.
I noticed this cover because it comes with a 5-year warranty. This cover comes with a storage bag and a cover support pole to prevent water from pooling.
For more information on this product, including customer reviews, additional pricing information, and photo galleries, visit the product on Amazon here.
Should I shrink wrap or cover my boat to winterize it?
If you spend nearly every day on your boat in the summertime but put your vessel into storage for the colder winter months, you may be wondering if it's worth your time and money to shrink wrap your boat. Essentially, shrink wrapping is a way to protect your boat from the harsh and damaging effects of the elements, just like a boat cover would.
Unlike a boat cover, however, shrink wrap is made from polyethylene plastic that is cut specifically to the size of your boat and then heated to get the perfect fit. Thus, shrink wrapping a boat isn't something you do when you're leaving it in your berth for just a night. Instead, shrink wrapping is really best used for winterizing, transporting, or storing a vessel for an extended period of time.
Shrink wrapping is highly effective at keeping UV rays and moisture off of your boat's electronics and gel coat, so it's worth considering for storing your boat over a long period of time. However, shrink wrapping a boat does have its disadvantages.
First and foremost, a good shrink wrapping job will run you upwards of a few hundred dollars, depending on the size of your boat. Plus, shrink wrapping plastic is made to be a one-time-use product, which means it's adding to the amount of plastic in our landfills. Finally, once your boat is shrink-wrapped, you won't be able to access the inside of your vessel until it's time to remove the wrap at the beginning of the summer season, so it's not ideal if you're looking to do some repairs and improvements on your boat during the winter.
On the other hand, you can use your boat cover to winterize your vessel. A boat cover isn't going to be as protective as shrink wrap, especially if you live somewhere with heavy snow, but it is a good option for anyone that lives in a climate with a mild winter. Additionally, if you want to get some work done on your boat in the winter, a boat cover will make it easier to access the interior of your boat without having to cut off some very expensive plastic wrapping.
So, should you shrink wrap your boat or cover it for the winter? Well, it really depends on where you live and how much access you need to your vessel in the off-season. While shrink wrapping is a good option for protecting your boat, it's not for everyone. Regardless of what you choose, however, what's important is that you protect your boat and your investment for years to come. Happy boating!