Disclaimer: As an affiliate I may earn a commission on any qualifying purchases, including those from Amazon.com, at no extra cost to you – read more.
A leaning post is an elevated support with an integral cushioned seat that is located behind the helm. They often include a back rest for comfort and improved stability. A well-designed leaning post allows a wide range of movement by the captain, who can sit or stand with ease when necessary. The padded seat of the leaning post absorbs the shock caused by rough and bumpy waters and increases comfort for the captain of the boat.
A good leaning post is a crucial piece of equipment that all ocean faring boats should have. It provides a stable platform for you to ride through waves and rough seas. It also allows you to safely stand up so you can see shallow sand bars or keep an eye on lines while you maneuver to land a fish.
The bottom of the leaning post also provides adequate space for storing a cooler or live well. To offer easy access to the boat controls, the leaning post should be installed at an appropriate distance from the console – usually about 12 inches. Leaning posts are an alternative to boat seats and its multiple advantages can be found in this article.
To summarize, the two main purposes of leaning posts are to create storage space, and to act as a precautionary safety measure in the event of rough waters.
An Investment in Your Boat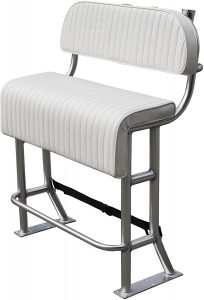 Leaning posts are among the top products that boat owners will invest in, as they play a fundamental role in ensuring safety in rough waters. In the circumstance where you are in the middle of a sailing escapade and the waters get bumpy, a leaning post will come in handy, as it provides a sanctuary for you to stay safe in until the waters settle. Installing a leaning post on your boat is an effective precautionary measure.
It is uncommon for boats not to have one installed. Not only are they important for ensuring the comfort and safety of the captain; they also create extra storage space on your vessel which can be used for multiple purposes. For instance, it allows fishermen to stabilize their forearms when the catch is larger than average.
If you have a center console, a leaning post is almost a requirement. If you want match your leaning post with your center console, check out my article.
Manufacturers of leaning posts have been constantly updating the aesthetic and functional design of the product. In addition to enhancing the overall visuals of the boat interior, these upgraded leaning posts can also increase the space available for storage of marine products on the boat. Investing in a leaning post will fulfill many functions on the boat and save you time, effort and money needed to improve your boat.
Check out all of the options and features you can add to your leaning post in this video.
---
Types of Leaning Posts for Boats
There is a variety of leaning posts which can be categorized by their size and function. Prominent companies in the business, such as Todd Marine and Taco Metal Company, offer a wide variety of products based on their characteristics and intended usage. They include the single portable leaning post, the Atlantis professional leaning post, the height-adjustable leaning post-Neptune II, Neptune III and the universal leaning post.
Leaning posts can be classified into two broad categories, as follows:
1. Basic Design Leaning Posts for Smaller Boats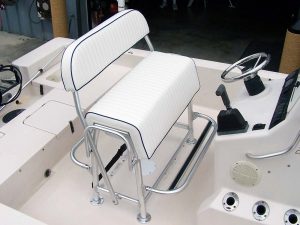 The most common variation, it has a width of approximately 30 to 36 inches. The entire unit is constructed by marine-grade materials to ensure durability to tolerate the harsh conditions both in active use and in storage.
They are made with materials such as anodized aluminum alloys, injection molded resins and marine-grade stainless steel. These posts are designed to allow space for any future additional structures on the vessel, including shelves, rod holders, ice chests, backrests, sinks and faucets.
Adequate space can be found underneath the post to provide storage space for marine products and other equipment. The cushioned platform can also double as seats in the event of calmer waters.
2. Complex Models Designed for Larger Boats
It is preferable for larger boats to have multiple leaning posts that can serve a larger number of passengers on the boat. During a party on your vessel, leaning posts can ensure the safety of your guests by providing them with a structure to provide stability physically while sailing through rough waters.
The large size of the boats will also be able to accommodate other additional structures along with the larger-sized leaning posts. The materials used to manufacture these leaning posts are extremely heavy-duty and are able to withstand rougher and more unpredictable marine conditions.
---
Prices for Leaning Posts
The price you'll pay for a leaning post depends on its size, materials used, design and additional features you might add. They range from $200 for a basic unit and can cost well over $1,100 for a custom design. Another factor that affects the price is whether you opt for an off-the-shelf unit or splurge for a custom-built leaning post. There are a lot of stock leaning posts that have some really cool features. This is good news for those of us who don't have an unlimited budget.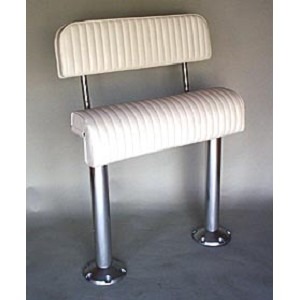 Here are some of the current market prices quoted from various companies, excluding shipping costs:
Size
Features and Options

Price

33'' leaning post,
Basic leaning post
$675
Small leaning post W/24
Back rest and cushion
$340
36" leaning post
Fiberglass center console,
plexiglass boat windshield
$680
30'' leaning post
Custom frame
$670
36" leaning post
Backrest and 4 rod holders
$495
Small to medium
Backrest
$620
Dolphin T Top 85QT
Fishing Cooler
marine anodized
$790
Taco Neptune III
Backrest
$1,095
---
Leaning Post Safety
Leaning posts are a precautionary safety measure, as they allow the captain to gain stability especially when plowing through rough waters. They also increase space available for storage of marine products and equipment, which enables the captain to focus his/her full attention on the wheel instead of juggling multiple equipment.
The under-seat cooler or live well is also fitted underneath the cushioned platform, which creates more space for passengers. Additional features such as shelves, faucets and sinks, backrests and ice chests can be fitted along with the basic structure to improve the comfort and efficiency of the user.
Leaning posts are design with safety and comfort in mind, and its uses are incredibly versatile.
---
How to Install Leaning Posts on a Boat
In order to successfully install a leaning post on a boat, the following tools are needed: jigsaw, socket wrench set, tape measure, wax pencil, marine lumber, 3M 5200, flashlight and a power drill. It takes approximately 6 hours to complete the installation. The process be as follows:
Assemble the leaning post with strict adherence to the manufacturer's directions.
Put the post in an appropriate position behind the helm and allow for adequate space between the controls and the leaning post. This should be approximately 12 inches from where the console is located.
Establish if the spot is appropriate by twisting the steer, reaching out for the GPS zoom and putting a can in the drink cabinet several times. Trace out your footprint of movement and use a pencil to make corresponding marks at the fastener holes. Remove the post and use a straight edge to square up the overall footprint of movement.
It is important to carry out an inspection below the surface of the intended leaning post location to ensure that no damage will occur while drilling or fastening the mounting bolts. Get access through existing deck plates if possible; if this is not possible, contact the manufacturer of the boat to figure out the situation underneath. Another option is to cut a temporary access hole and inspect the situation underneath with a flashlight. Extra caution should be taken to avoid any electrical wiring, gas tanks or hoses, or any other structural elements.
The aluminum backing plates are 1/4 inch wide and double the size of each foot. With the leaning post in place, carefully mark each mounting hole, then remove the leaning post and drill holes accordingly. To avoid drilling deeper than necessary, masking tape can be placed at an appropriate depth to serve as a marker. Ensure that drilling is perpendicular. Return leaning post back to the designated space and ensure dimensions and connections line up appropriately.
The diameter of the bolts should match the size of the holes found in the feet of the posts, while the length of the bolts should be able to accommodate the threads of the nuts. Use an elastic stop nut and big "fender" washers. Refine the underside of each foot with sealant and insert the bolts into the mounting holes. Through the access point, install backing plates that have already been drilled on top of the bolts and use fasteners to secure them. Use T nuts for lumber parts, and locknuts and washers for aluminum parts. Make sure everything is secured tightly.
Do not panic if the underside is inaccessible. Cut a hole that is within reach of the mounting location and allow enough space for the installation of backing plates to support the hardware used for mounting. Do not to go beyond the limits of the mounting feet. Cover the hole with a deck plate to finish off the installation aesthetically. Alternatively, you can seal and cover the hole with marine plywood and paint or gel it to match the sole.
---
Should I buy a custom leaning post or an off-the-shelf model?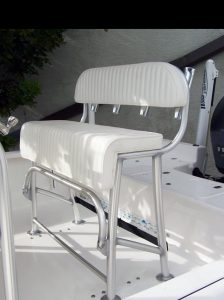 Off-the-shelf leaning post models refers to those that have designed to fitted on your boat for use immediately after purchase. It is a cost-effective option, as you will not have to spend extra time, effort and money to incorporate additional design features into your leaning post.
On the other hand, a custom-built leaning post is designed from scratch to suit your preferences. Despite the higher costs, they are tailored to fit the design and dimensions of your boat perfectly, and will provide your boat with additional features and functions that can boost its performance and potentially increase its lifespan.
They are constructed using top-notch materials such as premium anodized pipes and polyvinyl chloride backs that resist rotting. They also generally have a more ergonomic design that heightens its comfort for its users. A custom-built leaning post is a worthwhile investment, as it will save you operational and maintenance costs in the long run. It is also a stronger guarantee of your safety and comfort during sail.
---
Manufactures of Leaning Posts
There are a variety of companies that produce leaning posts of different sizes, designs and functions. Todd Marine Company and Taco Marine Company are among the most established companies which manufacture leaning posts. Todd company produces leaning posts ideal for center console boats and their posts include notable features such as anodized aluminum posts, rod holders and rugged UV-stabilized removable cushions.
Their collection of products includes single portable leaning posts, Atlantis professional leaning posts, Todd universal leaning posts and height-adjustable leaning posts.
Taco Marine has also established itself as a leading player in leaning post manufacturing, with a range of excellent products including the Neptune premium, Neptune II, Neptune III and Neptune III with backrest and grab nail. These have been meticulously designed to improve your sailing experience and enhance the interior design of your boat.
The materials they use to produce their products are extremely durable, made to withstand harsh marine conditions and prolonging the lifespan of the products.
---
Options That Come with Leaning Posts
Currently, there is a wide variety of leaning posts in the market to choose from. You are guaranteed to find one that suits your specific requirements. Smaller leaning posts are suitable for smaller vessels and are generally cheaper, while the more expensive larger ones are made for larger vessels with a higher passenger capacity.
They come in different materials as well, which are all able to withstand harsh marine conditions. Commonly used materials include marine grade stainless steel, anodized aluminum alloys and injection molded resins.
A typical boat seat can function as a leaning post. However, in the event of rough waters, it lacks the ability to ensure the safety of the captain, who is the key to the safety of the entire boat. Their design also reduces available storage space for essential items such as marine products and equipment. Leaning posts are an effective solution to these problems. In conclusion, it allows you to enjoy a carefree and comfortable boating experience, without having to compromise your safety or the visual aesthetics of your boat.