Disclaimer: As an affiliate I may earn a commission on any qualifying purchases, including those from Amazon.com, at no extra cost to you – read more.
If you're like me, you frequently have to make decisions about how best to spend limited funds for anything related to your boat. My family and I recently had to choose between buying water skis or wakeboards for our boat. I was surprised by the reaction this topic produced. Everyone had an opinion and was passionate about their point of view.
Wakeboarding versus water skiing. Wakeboarding may be the better choice with beginners because it is slightly easier to learn. Water skiing requires more skill and athleticism, but offers more opportunities for skill development and competition.
Which sport – wakeboarding or skiing – is better? This is a very difficult question to answer. If you're into winter sports, then you've likely had a similar discussion about snow skiing versus snowboarding. Not surprising. Your answer depends a lot on your age. Younger people prefer boarding (water and snow) because it's a cool sport, you can do a lot jumping and twisting, and it's not what their parents are into. If you're like me, you may have grown up before wakeboarding was a thing. I learned to slalom at a young age, and skiing is the sport I prefer.
Pros and Cons of Water Skiing
To me, skiing is the ideal sport. There is nothing quite like carving a perfect turn on early morning glass. You can adjust your skiing to the conditions, your energy level, and your overall fitness while getting exercise and having a great time. It is a great family activity that suits a wide range of athleticism and abilities. If you have children or a large group, this is a big advantage.
Skiing offers a lifelong opportunity for enjoyment and continuous skill development and improvement. The progression of skills goes like this:
Learn on two skis
Cross the wake and jump the waves
Drop a ski
Deep water start on slalom
Run the slalom course
Barefoot skiing
One drawback with skiing is the learning curve. Most people don't get up on their first try. It took me an entire day. You also need a relatively powerful and nimble boat to make sure your riders aren't dragged long distances. You'll likely need a few sets of skis for children, teens, and adults.  If you're into slaloming, you'll need at least one slalom ski. I have four.
If you're skiing behind a pontoon boat (yes – it can be done),  the universal ski tow bar by Aerial Wakeboarding might be of interest.
---
Pros and Cons of Wakeboarding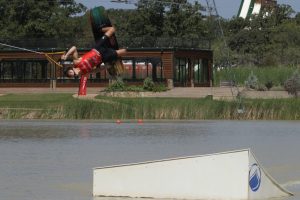 Most water enthusiasts under the age of 30 think wakeboarding rocks. Here are the top reasons people love wakeboards.
They're quick and responsive and allow you to jump and twist over the boat's wake and waves.
Almost anyone looks cool riding a board. I can't tell you how many Instagram posts my kids have.
Wakeboards are easy to get up on because their surface areas are large.
There are several challenges with wakeboarding.
Finding your feet: The first thing every wakeboarder must decide is which foot to put forward. For beginners, this may not be easy or obvious.
Many beginning wakeboarders find getting up is not be easy. A short rope can be very helpful in helping you stand upright on your wakeboard.
For a lot of boarders, it's awkward with your feet facing sideways. This takes a little getting used to, and with time most people get comfortable with it.
---
Relative Difficulty
Most people agree – getting up on two water skis is easier to learn than wakeboarding, and certainly than slalom skiing. You don't have as many balance issues when you get up on two skis because you're facing forward and using your legs for balance. This allows you to keep your arms straight so your bones are doing most of the work.
There is really only one way to get up on two skis. With slalom and wakeboarding, you need to decide which foot is forward and how to set your boots or bindings. Most boarders start sideways and then turn the board after they get up.
I think slalom is harder to learn and perfect, but wakeboarding is challenging and has its own set of specific skills.
---
Equipment Differences
Wakeboarding Handle
A wakeboard handle is wider than a ski handle. The wider handle makes it easier to spin and transfer the handle from one hand to the other when jumping and spinning.
Wakeboarding Rope
A wakeboard rope doesn't stretch like a ski rope does. This is because of the amount of jumping you do – stretching tends to throw you off balance while you're in the air.
A slalom skier is moving faster and pulling harder to make tight turns. A stretchy rope is forgiving and makes it easier to dig in and turn hard.
Equipment you may need: AIRHEAD Wakeboard Rope, Tangle Free, Electric Yellow

Wakeboarding rope floats and has a 2,000 lb. Break strength
Thermal-coated Dyneema is flat and is virtually impossible to tangle
70 foot long with a 5 foot handle bridle and 4 section mainline (5,50,5,5,5)
15 inch wide EVA grip
A rope Keeper is included for convenient storage
Life Jacket for Skiing and Wakeboarding
Water skiing and wakeboarding both require a life jacket for safety. Because of all the twisting and turning involved with these sports, it's important that the jacket not restrict your movement. I like the O'Brien neoprene jacket because it's a good all around performer that doesn't cost a fortune.
Equipment you may need: O'Brien Men's Flex V-Back Neoprene Life Vest, Orange, X-Large

Lightweight Biotite construction
Multiple hinge points for comfort
Flex V-back for mobility
Zip closure with 2 belts
USCG approved type III
Check out this video on the difference between ski and wakeboard ropes.
---
Things to Consider About Wakeboarding and Water Skiing
Will you have guests or just your family?
If you will be hosting a lot of your extended family and friends, you'll likely be dealing with a lot of first-timers. Unless you're a glutton for punishment, you'll want to avoid having to spend a lot of time explaining how to do something and then a lot more time trying to get each person up on the skis or board.
In my opinion, wakeboarding is easier to learn than skiing just because of the surface area the board offers. It's also easier to get a beginner up the first time. If you ease them up, most people pop out of the water on a deep water start the first or second time. They can't do much once their up other than hang on a ride behind the boat But, for a first timer, the pride and sense of accomplishment they feel for learning something new gives them a great experience that they'll remember for the rest of their lives.  For this reason, if you're planning on taking your friends out on the water, your first investment should be for a couple of wakeboards and a good rope and handle.
Although this article is about wakeboarding and water skiing, don't forget about tubing.
What type of boat do you have?
Do you have a high performance ski boat or a sluggish pontoon boat? It makes a difference when deciding between these two sports. A fast and powerful boat can easily pull a slalom skier up from a deep water start with no difficulties. A more nimble boat means you can make tighter turns and accelerate more quickly. These qualities favor skiing over wakeboarding.
If your boat is underpowered or you have a large pontoon boat, you should probably stick with wakeboarding. It doesn't take as much speed to get up on the board, and you can have a lot of fun going 24 mph. Skiing this slow feels like you're in mashed potatoes and will tire you out in no time. Plus, a larger boat can hold more passengers and usually has more features.
What is the skill level of your family?
Are you all beginners or can you ski or wakeboard. Most people enjoy sports they're good at. If some or all of your family already know how to ski or board, then you're better off sticking with that activity.
If your family is adventurous and looking to master a new sport, then adjust accordingly
Where are you boating?
The type of water you're on makes a big difference when deciding which activity to pick. If you're on a big lake with a lot of deep, open water, then you can do either.
If you're on a river, you may find skiing is better because the skier has more control and can have more fun behind the boat. If you are on a bay or even the open ocean, boarding may be the way to go because the focus is about jumping and getting air. Most skiers struggle in even a little swell. Big waves – forget it!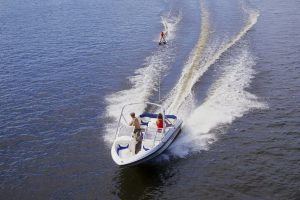 ---
What is Everyone Saying?
I'm a member of several forums, and this topic comes up a lot. Everyone has an opinion, and they're not shy about sharing it. Here are some of the things people are saying.
 "Wakeboarding will require considerably less effort to get on top of the water and to ride around. It's much easier on the body if all you plan on doing is riding back and forth behind the boat. Even one wake jumps require less effort than pulling slalom from side to side."
"I think it is easier to get up on skis but easier to progress on wakeboard"
"Much easier to teach kids to get up on a wakeboard. With a little prep we have roughly 4 out of 5 getting up on their first try."
"The falls when skiing can be brutal."
"I have found that skiing is harder on my body from a work out standpoint. I'll wake up the next morning a little sore but the good kind."
"Kids all want to wakeboard (it looks more fun and there's more 'stuff' to try)."
---
Comparison Between Wakeboarding and Skiing
Here is a video showing both skiing and wakeboarding. Decide for yourself which one is better.
YouTube Title: Wake Boarding VS Water Skiing?
Safety Considerations for Skiing and Wakeboarding
Regardless of which sport you prefer, there are several safety considerations that a captain must keep in mind when towing a water skier or wakeboarder.  There are also think every skier/boarder needs to know
This YouTube video gives a great overview.
---
Competitive Skiing and Wakeboarding
Both sports offer leagues that sponsor competitions and tournaments. If you're good at one or the other, you may enjoy the competition and sense of community that organized sports offer.
National Ski League
The National Ski League consists of local water ski clubs all over the country. These clubs host tournaments for all levels of slalom skiers. They developed a modified scoring system that allows all levels of skiers able to compete – even those who can't run a slalom course.
National Wakeboard League
The National Wakeboard League is all about wakeboarding. This organization has tournaments and showcase events designed for beginning to advanced wakeboarders. Many of their events are run concurrently with water skiing competitions so you have an opportunity to experience both sports.
---
Conclusions
Both water skiing and wakeboarding are very popular with boating enthusiast. Deciding which sport is better for you really depends on your particular situation. The top factors to consider are the type of boat you have, the size of your motor, the ages and athleticism of your family and friends, and where you'll be using your boat. Regardless of which one you go with, you and your family will be creating great memories that will last a lifetime.