Disclaimer: As an affiliate I may earn a commission on any qualifying purchases, including those from Amazon.com, at no extra cost to you – read more.
Are Boating Safety Courses Worth the Cost
Boating can be a fun, enjoyable activity whether you're fishing or simply floating for the sheer pleasure of it. About 75 million Americans take part in boating each year, the National Ocean Service reports.
Maybe you'd like to buy yourself a boater license or register as a boater. If so, it's mandatory that you finish a BSS, or Boat Safety Scheme, certificate, at least if you're going to boat in the U.S. Once you complete this certificate, you'll be able to obtain your license to use the nation's rivers, canals, and other inland waterways. Anyone can learn the boating skills and knowledge they need to earn this license. Your BSS certificate demonstrates that you've completed a safety course, but some people still aren't sure why they might want to take a boating safety course. Read on to learn about all the ways taking a boating safety course will benefit you.
5 Benefits of Boating Safety Courses
Save on Your Boater's Insurance
One of the best benefits of completing a boater safety course is that you'll save money on your boating insurance. Whether or not you're required to complete a safety course in order to get boating insurance in the first place varies by state. However, insurance companies doing business in most states will offer a discount on yearly boat insurance premiums. To find out exactly what kind of discount you could get on boating insurance once you've completed a safety course, contact your insurance company.
Learn Rules and Regulations You Were Unaware Of
If you're a regular boater, you're probably familiar with the basic rules of boat safety. Still, by taking a boating safety course, you have the opportunity to learn all the rules and regulations. These courses are specifically designed to instruct you in all the knowledge and skills you need to effectively pilot your boat in a wide variety of possible circumstances.
By taking a proper safety course, you'll learn everything you need to know, from the basics to more intensive information.
Some of the boating safety course will include:
How to properly navigate your boat on the water's surface
Safety equipment you must keep aboard your vessel at all times
The different types of watercraft that can used in America's rivers and lakes
In addition to these safety rules and U.S. boating regulations, you'll learn about proper boat maintenance. By completing an appropriate boaters' safety course, you'll get a thorough grounding in both the background knowledge and the specific procedures you'll need to operate your watercraft.
Reduce the Chances of Boating-Related Injury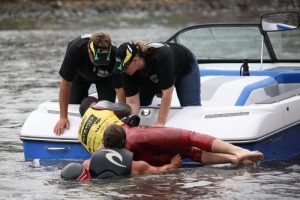 Accidents can happen to even the most knowledgeable and skilled boaters, but a boating accident can lead to all kinds of unfortunate consequences. The U.S. Coast Guard estimated that recreational boaters on all the American waterways caused around $39 million in property damages in the year 2013 alone.
Of those recreational boaters who were involved in accidents in which property damage was reported, upwards of 80 percent had not completed a proper boating safety course to earn their BSS certificate. For this reason alone, it's worth the investment of your time to complete a safety course and adequately prepare for conditions on the water.
Property damage isn't the only consideration when boating accidents occur either. You must also take into account that when you are piloting a boat, you are taking your life into your hands. If you have passengers aboard your craft, you become responsible for their lives and safety as well. When you complete a boating safety course, you learn what to do in case of any accidents or emergencies, as well as ways that these conditions can be avoided. The safety of you and your crew depends upon you having the skills and knowledge you need.
Learn How to Help Protect the Environment
An important aspect of boating is making sure you understand the impact of your actions on the environment. This means learning about how lakes, streams, rivers, and the shoreline can be impacted by your actions. You want to help protect the environment to be a good citizen, of course, and you should also know that in many places around the United States, you are required by law to follow the local environmental regulations.
When you take a boating safety course, you'll learn about aspects of environmental protection such as low-wake zones that you must be aware of, how to prevent contributing to pollution, and other skills specific to different types of marine environments. There are many large and small steps that boaters can take to help ensure that waterways will be safe and navigable for generations to come, and you'll learn about these steps by taking a proper safety course.
Be Prepared to Deal with Emergency Situations
Many experienced boaters feel as though they already have the skills and knowledge they need to operate a boat. This may be so, but learning about them in the formal setting of a boating safety course can enhance the knowledge base and skills of even expert recreational boaters. It's never too late to sharpen your skills, especially when it comes to being on the lookout for emergencies that might arise so you'll be properly prepared to deal with them.
Alert boaters have to be aware of a large numbers of conditions that are potentially threatening. These include severe water and onboard fires. You may think you understand the protocols for dealing with these types of conditions, but many people are surprised, when they get into a boating safety course, to learn that there is much more to understand and prepare for than they initially realized. A boating safety course will help you understand the kind of quick, flexible thinking you'll need to have in order to deal with emergency conditions as they arise.
Who Should Take a Boating Safety Course?
You've learned five reasons why boaters can benefit from taking a boater safety course. Who are these boater safety courses designed for, and who has to take them? To answer these questions, let's look at some rules and regulations that apply to boaters in the United States.
Mandatory Education Requirements
Essentially, the United States mandates that anyone who is going to operate a boat is required to take a boater safety course. The law applies to all boaters who were born before the year 1996. Boaters born before this year are legally required to earn a certificate, and to earn that certificate, one must first pass a required safety course.
When you are the pilot of a boat, your first and foremost consideration should always be the safety of yourself and of any passengers you have aboard your vessel. Passing a safety course will help assure you and your passengers that you know what you're doing. This will give them confidence in you, and you'll have more confidence in your own skills and knowledge.
Pilots of all kinds of watercraft are required to take a boater safety course. If you plan to take members of your family along with you on your boating excursions, your family members may also want to take a boater safety course along with you. Even though they may not be piloting the boat, you may decide as a family that it's important for all of you to learn the skills and knowledge you'll need to handle everyday recreational boating situations as well as any unforeseen conditions that you might come across. If everyone aboard the boat is trained in boating safety, the chances of any accidents occurring will be even further reduced.
Other Frequently Asked Questions
What Do Boater Safety Courses Cover?
Boating safety courses vary slightly in the topics they include, with some being a little more thorough than others. These are the basic topics that are going to be covered by most, if not all, boating safety courses in the United States.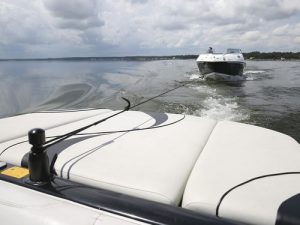 3-Point Turns
Basic close-quarter turning
Bow- and Stern-to-Pontoon Mooring Techniques
Ferry Gliding
Mooring to an Alongside Berth
River Mooring
Whether you plan to apply your boating skills to a professional workplace or use them as a recreational boater, you should learn the advantages of electronic navigation. A boating safety course will teach you to navigate waterways with a thorough understanding of electronic aids.
Another critical skill for learning to successfully pilot a boat is learning to read a weather chart. By learning this skill, you'll be able to understand the conditions you can expect to encounter when heading into specific locations. You will gain knowledge about such factors as water flow level and wind pressure. These are not common skills for most people, so by taking a boating safety course, you'll learn these specialized skills.
What Special Considerations Must I Have for Children in the Boat?
Many families enjoy recreational boating with their children aboard, but the inclusion of minor children on a boating excursion can be cause for special caution. Children on a boat create certain considerations that may not come up when all the passengers and crew on the boat are adults. In their youth and inexperience, children lack some of the knowledge that adult passengers and crew members have.
The most important rule for children aboard a boat is that they should be made to wear their life jackets at all times. In addition, children should not be left alone to wander the boat freely, but should be supervised by an adult at all times. The adult should not only watch the child but either hold them (in the case of infants and toddlers) or actively engage the child in an activity that holds the child's attention. Children are less likely to fall off the boat or have other accidents when adults keep them actively engaged and closely supervised. You'll also have to consider keeping the children warm while they're on the boat.
As part of a boater safety course, you will learn about ways you can prepare the boat ahead of time to make it more child-friendly. This is another benefit of taking a proper boater safety course.
Is Safety Training Required by the U.S. Coast Guard?
Members of the U.S. Coast Guard have all been given complete safety training, which they must undergo annually. Because they use specific equipment, the Coast Guard are trained in a very specific set of rules and regulations. These differ from the ordinary boater safety training courses offered to the public. When choosing a boater safety course, look for one that has been approved by the Coast Guard. In this way you can get your Boat Safety Scheme certificate so that you can earn a boating license.
Does the Coast Guard Approve Boating Safety Courses?
Surprisingly, the US Coast Guard does not approve or recommend boating safety courses.  Safety training for boaters is currently approved by the National Association of State Boating Law Administrators (NASBLA). The individual states review NASBLA's recommendations and approve them based on their own criteria.  If you want an approved boating safety course, check with your state boating agency or look for the NASBLA seal on the training course.
Conclusion
By now, you should have a thorough understanding of why it's so important for every person who is going to be boating on U.S. waters to complete a proper boater safety education course. Several boating safety courses are available that are recognized by the U.S. Coast Guard as being appropriate. These boating safety courses may be offered free of cost.
Remember, there are many good reasons to get the proper training in the skills and knowledge you need to pilot your boat safely and effectively. Among these is this: You'll have more fun as a recreational boater when you know what you're doing, are confident, and aren't worried about weather, accidents, or emergencies. Spending time on the water is an enjoyable hobby for thousands of Americans, and with a little study and practice, you can learn the safety rules and regulations that making boating easier. Everyone who loves the water should take a proper boating safety course to take part in the wonderful recreational activity that is boating.