Boat camping – what exactly is it?
Picture looking up at the night sky … your boat gently rocking you as the lights flicker on the water. You hear a splash as some wonder of the deep breached the surface. Everything's peaceful and you are as close to heaven on earth as you can possibly be.
Boat camping is what many adventurers around the world seek out when they want no roads or hiking boots, just the freedom of adventure and the joy of the water.
Like with any trip, you have to think of some essentials first to make your boat camping experience the best it can be.  There are some simple steps you can take to be prepared and ensure that you have the time of your life on the water. From the gear that you take to the place where you eventually drop anchor, this post will give you some top tips to get you started.
Sleeping on your boat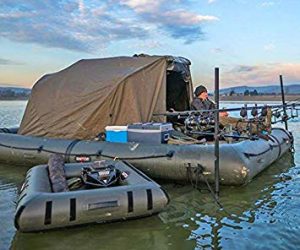 When sleeping on your boat, make sure you bring comfortable enough bedding that is meant for camping on the hard floors of your boat's deck. To ensure a good night sleep, pack a few good camping mats, thick sleeping bags and blankets that are suitable for camping and keeping you warm.
You may also want to invest in water resistant sleeping bags or bags to keep your bedding in. Waters can become more rapid at night when your boat is docked which can result in water kicking up from beneath the boat's bilge so sleeping in a water resistant sleeping bag may be the best option for your boat camping trip.
Island camping
If you like exploring the many islands around the world, you could switch up your boat camping adventure with some island camping after being on a boat all day. Here are some suggestions on what to include in your backpack.
For a good night sleep, be sure to take your tent, sleeping bags and some extra clothing to keep warm. Always bring the necessary food and plenty of water when you go inland and trash bags for your waste to take back to your boat.  And of course don't forget about safety – have a general idea of where you will be inland so you do not get lost, take a flash light and some form of communication gear with you.
Shop Camping Gear at Bass Pro Shops
Get your gear on
Like with any camping trip you will have to think of eating, sleeping and toilets as must haves. With limited storage space, here are some of the items that should be on the top of your list: a cooler, camping stove and a large fresh water container, appropriate sleeping gear, sunglasses, a brimmed hat long-sleeved shirts, long pants, and a sweater or sweatshirt for cold nights. While many boats have self-contained sanitary units, if yours doesn't, you might have to bring a portable toilet along too and know where you can dispose of the waste at an appropriate facility nearby.
There are additional items that you may want to bring that are highly recommended, especially during the summer time. Being on a boat in the summer brings a constant exposure to the sun. So unless you are planning on going camping beneath a tree, always bring sunscreen.
Insects love water, especially on lake fronts where there are trees and other places where they nest along the shorelines and they will definitely come to your boat for a visit. To keep those stinging and biting insects away, make sure you bring plenty of insect repellent. If you are the practical kind, you might want to find an insect repellent that has a high SPF count to block out sun rays and bugs in one go.
What to Do on a Boat Camping Adventure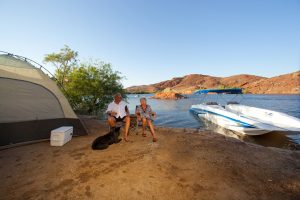 Exploring
If you decide to venture off in your boat, make sure you plan your explorations ahead of time and have a national map of the area with you. Create an itinerary indicating where you plan to go and when you expect to return and leave this with a friend or family member or at the local marina.
If there is a sightseeing where you are boat camping, it might be a good idea to schedule a time to go and possibly when it's not too busy, to make for a relaxing experience.
After your day on shore, get back to your boat in good time to kick your feet up and watch the shooting stars in the night's sky.
Fishing
Before you decide to settle down on the gentle waters and cast out the line of your fishing rod, make sure you have your fishing license, so you can fish legally. Know the state laws regarding of fishing while boat camping and if you don't already have one, know what steps you have to take to acquire a fishing license.
Make sure to respect nature and "leave no trace". This includes cleaning up any trash created and dispose of it correctly; not feeding wildlife, and keep things the way they were to not disturb nature.
Swimming & Snorkeling
Whether in ocean waters or a lake front, swimming and snorkeling is a great way to explore the waters, be it snorkeling in Hawaii or a casual swim on the lakefront. Either way, to ensure safety, it's best to know the area.
If you don't know the area well, this can be potentially dangerous so don't go alone or without a professional that knows what to do . For ocean waters, sharks hibernate in certain areas during the year so having a professional with a snorkeling license that can guide you will be a must when snorkeling or diving there.
Some freshwater lakes can also be unsafe to swim in. There could be dangerous wildlife present, such as alligators, contaminants from nearby farm-land or pastures, hidden hazards underwater that may be hard to see or algae build up that can make you sick.  A quick online search on your state's recreation or environmental sites should tell you whether the area is a safe zone for swimming.
If you're near the Florida Keys or the Florida coats, you've got to go diving. Read my article on how to plan the perfect dive trip.
Photography
The world has so much beauty to capture and share with family and friends. Here are our best tips for capturing your favorite moments and nature while boat camping.
Having a high definition camera is not a necessity for capturing high quality photos, if your phone has a decent camera, you don't have to worry about taking extra lenses or tripods for those bulky DSLR camera.
If you happen to love the crisp clarity that a DSLR camera can capture, there are some guidelines that you may want to follow before packing up.
Purchasing a water-resistant camera bag for your equipment will help keep your kit safe. Bringing a cleaning cloth for the lenses will make sure you're always ready to capture the best shot, even when the water kick ups during those more risky shots that include the boat moving along the water. If you opted for your phone camera, you can find plenty of water proof cases online too.
Safety Tips
Before you pack your bags and hit the road to get on your boat, there are some safety tips we'd like you to consider.
Make sure that children are seated when your boat is moving. Water can kick up and the boat's bilge can make it slippery. This can be dangerous even when the boat isn't moving. Make sure any obvious water spills are taken care of so that nobody falls and gets injured.
Having a first aid kit on the boat for small cuts and injures is a must, especially since boats can carry rust on their sharp edges that can result in an infection. Having a first aid-kit with wipes, band aids and other basics will prevent infections from happening in case of injury. It doesn't have to be a big kit, a small one with the essentials should do the trick.
While your trip should be fun, please be responsible when drinking alcohol. Being under the influence will impair thinking and increase risk-taking, which can result in accidents.
Making sure you have a good time on your boating trip means planning for all eventualities. Have clear rules for the trip, carry all essentials, have the right amount of food and water, and extras in-case of emergency and carry communications gear at all times. Make sure that you left your itinerary with someone you trust – it will give you and them! a peace of mind while you're away.
With all this considered, you're ready to kick back and relax. Watch the night sky reflect in the water and  enjoy the life-time experience of boat camping with friends and family.