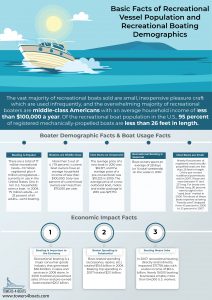 All About Recreational Boating
Recreational Vessels
Recreational Vessels are, as the name suggests, primarily for pleasure. They are generally smaller in size, low-cost, and are for leisure activities like fishing, skiing, and travel.
These boats are further classified into several sub-categories like sailboats, personal watercraft, inboard and outboard vessels, and sterndrive boats. In 2016, the total amount of recreational vessels sold was around 3.6 billion US dollars.
Demographic and Usage Facts
In the United States, there are 17 million recreational vessels, with 13 million of those being registered. This number, and its popularity, is rapidly increasing each year. In 2009, 75 million adults went boating for leisure. That's 32% of the adult population! And in 2015, recreational boating was one of the most popular activities among the adult campers of the U.S.
Class of Recreational Boaters
The majority of recreational boaters are middle-class Americans whose average household income is no more than $100,000.
Most recreational vessels are fairly affordable, which is 1 in 10 US households owns a boat. Based on 2010 data, a package deal including an outboard vessel, a motor, and a trailer have an average price of $27,710.
Most recreational boats are no longer than 26 feet. In 2006, vessels over 30 feet long were easy to purchase from the used boat market and contributed a big share to the recreational vessel industry. But by 2007, 91% of pre-owned standard powerboats sold were between 11 feet to 25 feet in length.
Economic Impact
The National Marine Manufacturers Association (NMMA) president, Thom Dammrich said, "The recreational boating industry has been on a seven-year climb that's expected to continue into 2019, bringing even more people to the water." He also added that these sales are a combination of economic growth and high consumer confidence. Many consumers claim that boating one of the best ways to spend quality time with their friends and family, relaxing in an open atmosphere free from the hassle of a polluted environment.
While the recreational boating industry is not exactly famous in the US economy, it is successful and impactful. With the rapid increase in outdoor activities, recreational boating is becoming one of the major leisure entertainments for the adults of the United States. According to the NMMA, the industry has contributed $30.8 billion in the US economy, solely from its sales and services in the year 2009. Whereas, in the same year, the sales of traditional powerboat of used and new boats were estimated at $20.1 billion.
The recreational boating industry is also extremely valuable for creating jobs and businesses. The industry includes the manufacturing and sales purchase of boats, engines, spare parts, and other accessories. This offers 19,000 marine businesses and 154,000 American jobs. It made a huge addition to the US economy in 2007, with a labor income of $10.4 billion and 337,758 direct and indirect impacted jobs.
In a Nutshell
Recreational boating has become much more popular in the last few decades. Once used simply for transportation, it is now a leisurely activity loved by many. A small-sized recreational vessel is affordable and the perfect partner for your weekend festivities.