New Hampshire Boat Registration Requirements
If you own a boat and live in New Hampshire (or you primarily use it in New Hampshire), you must register your vessel with the Department of Motor Vehicles (DMV). The state requires any boat that is used on the public waters of New Hampshire must be registered. The term "public waters" includes all inland waters, like lakes, rivers, and ponds, plus tidal and coastal waters which is the ocean near shore. Every boat registration must be renewed on December 31st of each year.
If your boat is registered in another state, then you do not have to register it in New Hampshire as long as you don't use it in the state for more than 30 days. Otherwise,  you'll have to register as an out of state owner.
New Hampshire requires all motorized boats to be registered, regardless of size. All sailboats and sailboards 12 feet and longer must also register. Small, non-motorized boats like canoes and kayaks are exempt. If your boat is registered in another state, you can use it in New Hampshire for 30 days.
Check out our national database for a list of boat registration requirements for every state.
Boats That Must Be Registered in New Hampshire
In New Hampshire, you are required to have a valid Registration Certificate and a current decal to operate your boat on public waters. If you have a motorboat of any size or a sailboat that is 12 feet or longer, you must register your boat. The only exceptions are:
Sailboats and sailboards less than 12 feet
Small, non-motorized vessels such as canoes and kayaks
Boats registered in other states provided you operate it in New Hampshire for 30 days or less
Vessels owned or operated by the U.S. government
Required Information
If you're looking to register your boat in New Hampshire, you'll need to collect the required documents. New Hampshire requires the following information to register a boat.
A completed application
Proof of ownership
Required fees
Verification of vessel identification (if your boat doesn't have a Hull Number)
Fees to Register Your Boat
New Hampshire charges boat owners several fees to register their vessel.
| | |
| --- | --- |
| Boat Length | Fee |
| Up to and including 16 feet | $24 |
| 16.1 feet to 21 feet | $34 |
| 21.1 feet to 30 feet | $52 |
| 30.1 feet to 45 feet | $72 |
| 45.1 feet and over | $92 |
Other Fees
$9.50 for each registration – paid into the lake restoration and preservation fund
$1 for each registration – paid into the fish and game search and rescue fund
$5 for each registration processed by an authorized agent
$5 for each registration – paid into the statewide public boat access fund
$2 for each registration for tidal or coastal waters.
Proof of Ownership
You must provide proof to the State of New Hampshire that you own the boat you're registering. The DMV requires both a Bill of Sale and a Driver's License. A Bill of Sale for your boat is more than just a receipt of payment. It must be compliant with the DMV's requirements – which are lengthy and very specific.
The Bill of Sale must include all of the following information:
Bow number
Year built
Make
Color
Length from the bow to the stern
Primary state where the boat is used
Hull material of construction
Propulsion (outboard, inboard, electric or sail)
Fuel
Hull identification number
Single or twin engines
Inland water or tidal water use
Maximum occupants
Does vessel have toilet, sink or shower
Total horsepower
Owner's name, address and date of birth
Primary use
Signature of owner, or if a company, signature and title of authorized agent.
Does NH Require Boat Insurance to Register a Boat
New Hampshire does not have a requirement for boat owners to insure their boats as part of the registration process. Surprisingly, only two states require boat insurance, even though all 50 states require motorist to have automobile insurance.
Just because you aren't required to have insurance, doesn't mean you don't need it. Like your home, a boat is a major investment, and you should have some type of protection for it. Depending on the type of boat you have and the level of coverage you get, boating insurance isn't very expensive – especially given how expensive a boating accident can be. We have a comprehensive article about boating insurance.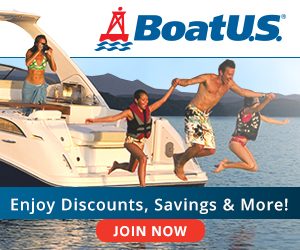 Where to Register Your Boat
If your boat is used recreationally, you have the option of registering it in person at some DMV locations or through the mail. Here is a list of DMV offices that process boat registrations.
If you prefer to use the mail, send all of the required information and fees to the Concord DMV.
NH Dept. of Safety
DMV – Boat Registrations
23 Hazen Drive
Concord, NH 03305
Bow Number
Once you register your boat, you will be given a Registration Certificate, a bow number, and a decal. You must keep the certificate on the boat whenever you use it. You also have to display the bow number and current registration decal on your boat. The bow number never changes. The state will issue you a new decal every year when you renew your license.
Registration Renewal
All boat registrations must be renewed on December 31st of each year. You should receive a renewal notice in the mail from the DMV. To renew your boat registration, simply complete the form and return it with the required fee. You can also renew your registration at any DMV office or an authorized agent or certified marina.
Hull Identification Numbers
The Hull Identification Number is a unique 12-digit number assigned to boats built after 1973. This number is required to register your boat in New Hampshire. If your boat was built prior to 1973 or is a homemade vessel, you'll have to obtain a Verification of Vessel Identification from a New Hampshire law enforcement agency.
Useful Links and Resources to Help You Register Your Boat
New Hampshire DMV Boat Registration Page – This is the home page for the State Agency in charge of boat registration
DMV Offices – Find DMV locations that can process your boat registration application
Authorized Boat Agents – These are private companies that can process your registration
List of Vessels Exempt from Registration – Check to see if your boat is exempt from registration requirements
Verification of Vessel Identification (If you built your own boat or it doesn't have Hull Identification Number)
Registration Fees – List of all vessel types and the applicable registration fees
Boat Fees – This is a comprehensive list of all fees that you might have to pay in addition to the registration fees
Request a Copy of Registration – If you want another copy of your registration besides the one you have to keep on your boat
Verification of Vessel Identification – Form for local law enforcement to verify your boat's Hull Identification Number
Replacement Boat Decal – If you need another renewal decal, this form is what you need
New Hampshire Marine Patrol – This is the agency in charge of enforcing all boating laws and regulations for the State of New Hampshire
New Hampshire Fish and Game – Issue fishing licenses and a great source of useful information
New Hampshire Port Authority – The agency responsible for managing all points of access for the state's waterways