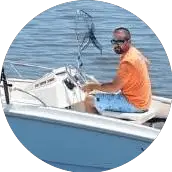 Let's face it, most of us don't buy a boat with the intention of acquiring a very expensive piece of garden furniture. We do it because we love being out on the water. We want to enjoy a certain lifestyle. But have you ever stopped to think about what that means?
For me, that means fishing by myself or skiing and wakeboarding with my family. Owning a boat has become a focal point of my life. I live for the weekends when I can go out on the water and escape the stress of life on land.
But our choices aren't restricted to boating and being on the water. As Jimmy Buffet says: It's all about lifestyle.